Words by Puddles the Monkey

It's the first week back for most people after the winter break. This week everyone's thinking about money, money money...
What we learned…
Some students could do with spending their money a little more wisely: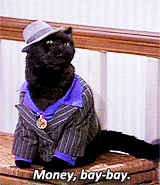 How much student loan do
you have left
?
Poll: How much do you drink?
Our poll
revealed that 33.3% of students drink more than the recommended guidelines.
Alcohol is part of uni life, but make sure you're on top of your drinking habits. You'll feel much happier for it. "I used to drink ~45 units a week. Now drink more like 10-15 and feel so much better and healthier for it," says Neurosci.
For some, drinking is a social thing. "Never drink unless it's at a party," says Lord Kirchener. "I binge, can sometimes have 20 units in a night, really need to stop." Says DavidYorkshireFTW. Guidelines suggest that you need to spread your units out over 2 or 3 days, and make sure you have some days alcohol free.
For others, uni actually reduced the amount they drink. "Oddly the amount I drink has decreased since starting uni because during my gap year and during sixth form I regularly went to the pub to eat drink play pool and watch football," says Neal85.
Not overdoing the booze is good for you, but some feel the new guidelines are too strict: "I like beer and am only on the planet for another 70 years maximum so might as well enjoy myself," says rockrunride. Even if you don't stick to the guidelines perfectly, make sure you look after yourself and don't overdo it. You want to make the most of university, so like everything else, moderation is key.
Advice: Is there time to get a job and join a society?
"I basically have to get a job when I'm at uni. But I was looking at my university SU page and saw that there's 3 societies I really want to join," says catharineannava, "Is it possible to commit to several or more societies, hold down a job, do my uni work and keep up a social life? "
You don't want to end up doing too much a burning out, but with some time management you should be able to fit everything in.
1) Make a timetable. "Does the SU page show what time the societies meet? If so, you could check this year's timetable for students," says SeanFM. This way you'll be able to plan your schedule so you get everything done.
2) Remember, you need to work independently of contact hours, so don't think you've got loads of time free if you only have 10-12 hours of lectures a week. "Make sure that you were studying outside of lectures enough," says SeanFM
3) Pick your societies carefully. "Team sports tend to be very regular and can be time consuming at higher levels, but more casual ones you don't even need to attend all the time if you've a lot on," says Inazuma.
Don't forget…
It's that time of year when the SFE fairy deposits loans into accounts, so don't forget to get your finances sorted.
Head over this thread
for all the information and budgeting advice you need.
---
If you've seen any threads you'd like to see featured, polls, general ideas or feedback please contact Puddles the Monkey.
Maybe you've even got a strong opinion about something you'd like to start a debate on, or perhaps you'd like to contribute to a section - feel free to get in touch.
If you'd like to be notified when this article is published, please comment below and I'll add you to the quote list.