Sponsored feature
If you're currently in the process of applying to university, you're probably wondering what life is like as a student.
And while those who've been there and done that can waffle on about their dimly remembered student experiences, the people really worth listening to are those who are doing it right now.
That's why The Student Room recently travelled to
Coventry University
to spend the day with Matt Sanders, a third-year student studying for a degree in Motorsport Engineering, and Ross Thorpe, a second-year student on the Aerospace Engineering course.
Read on to find out what uni life is like for them. If you've got comments or questions about Coventry University,
join in with the chat in our Coventry University discussion section
.
9am
For both Ross and Matt, most days begin with a 9am lecture in the brand-new Engineering and Computing building (ECB) which opened earlier this year.
"I get in at 9am and when I am in for a lecture I tend to head straight to it," says Matt. "However when meeting for group work or doing individual work I relax a bit first, normally via Starbucks!"
Everything around the building feels fresh out of the wrapping - and everywhere you look there are examples of clever design.
Of the two main lecture halls, one is an amphitheatre-style room with the lecturer's space in the middle of a 360-degree seating arrangement. Today, a smaller group is in for Matt's first lecture, so a dividing wall is dragged across to cut the space in half.
The facilities are used only by computing and engineering students, and Ross says there's a buzz around the place because of that - with students on related courses seeing each other every day.
11am
Lectures also take place upstairs in more interactive rooms, which are stuffed with technology. Computer monitors rise up out of the circular desks and can be quickly stowed to make space for group work, while flat screens hang from the ceiling, enabling students to follow lecture notes from any position in the room.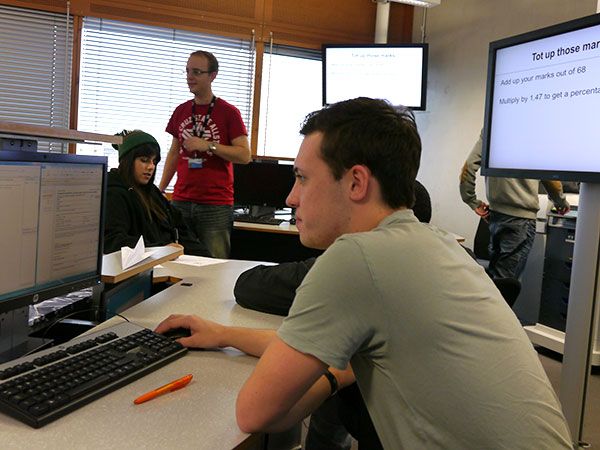 12pm
Following morning lectures, Matt heads next door to drop off some books. Even the library has a dash of sci-fi about it, with eye-catching towers rising up from the main building and an automatic scanner system for checking books in and out.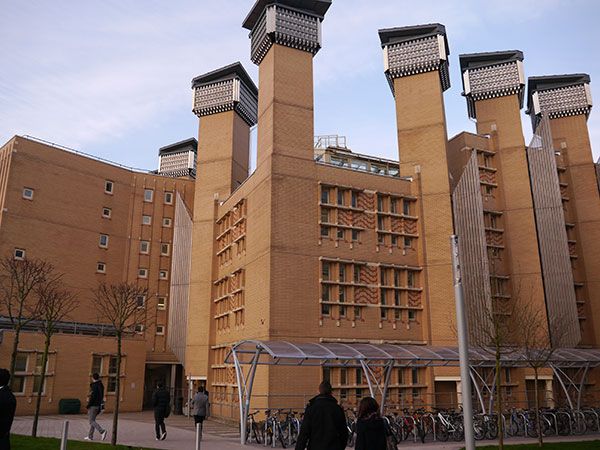 1pm
Come lunchtime, it's off to TheHub. Across the road from the ECB, this building houses a range of facilities including a food court, the Students' Union offices and a large chill-out area stacked with beanbags. Time for a snooze break...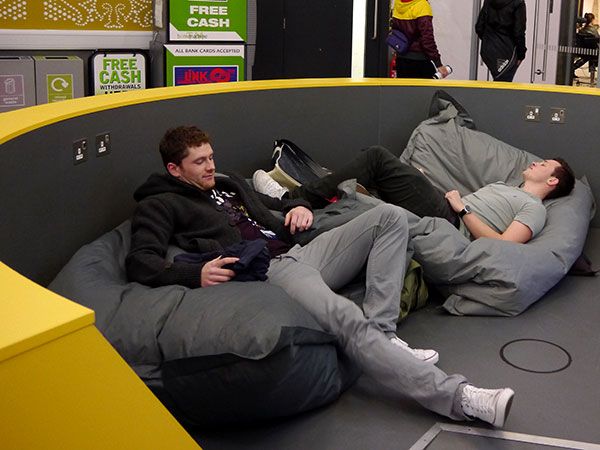 2pm
After lunch Ross and Matt head back to the ECB and down to the project room. Both students spend a substantial amount of time down here, taking part in group work or - in the third year - working on a major project.
Matt's project is focused on creating an electric-powered kart. Using 144 batteries of the type found in radio-controlled cars, the kart is capable of speeds up to 50mph.
Matt, who's been racing competitively since the age of 12, is part of the Coventry University Karting Team that has come fifth and third in the last two British Universities Karting Championships. He'll soon be racing his prototype in the US.
As an aerospace engineering student, Ross gets the opportunity to work on the flight simulators, used for testing how small changes to an aircraft affect how it flies.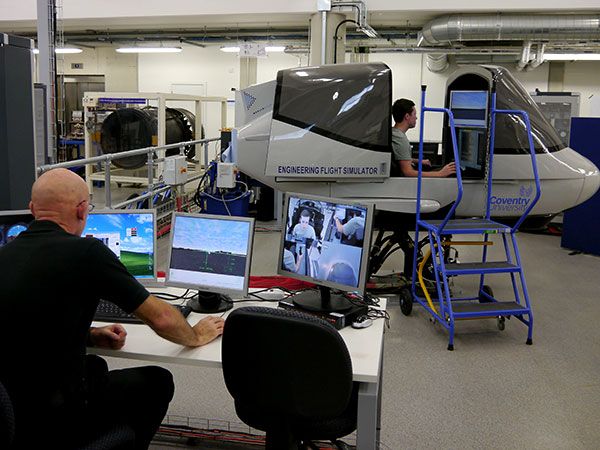 But, perhaps most excitingly, he's also able to practice engineering techniques on a genuine Harrier Jump Jet.
The three flight simulators and the Harrier Jump Jet can run simulations in the same air space and are linked via radio headset communications.
4pm
Towards the end of the day, Matt heads into one of the breakout rooms for some computer work.
The Catia design software installed on the systems is extremely versatile – today he's using it to run virtual stress tests on kart components.
Meanwhile Ross, who is working towards earning a work placement for next year, sits down to get help with his applications.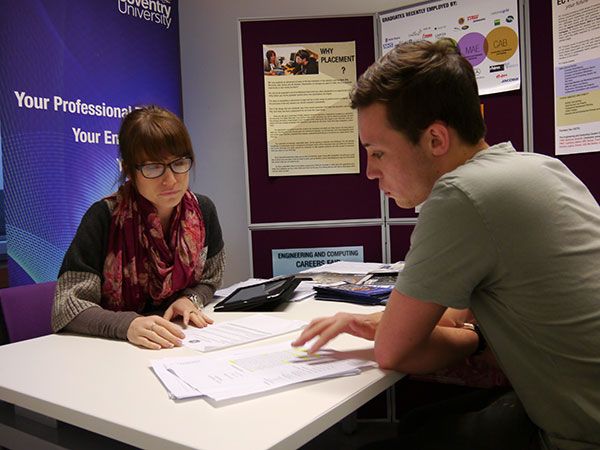 The Employability and Placements Unit will help him ensure his name stands out from the competition.
5pm
With the day over, Ross and Matt can look forward to a bit of downtime.
"Once I get home, I make a point of leaving my work and relaxing," says Ross. "That might mean climbing with the Mountaineering Society, attending my role as president of the Aerospace Association or just a social drink in town."
Matt adds: "At the end of the day I will have a drink and a sit down, then try to continue with work while I am still in working mode. Depending on the day, that can last very little time!"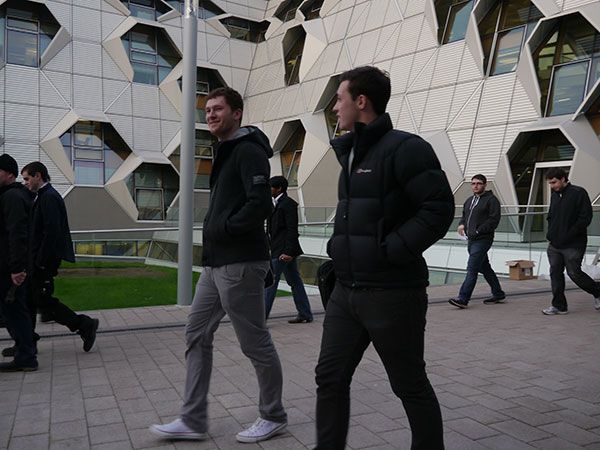 Find out more about the courses on offer at Coventry University