(Original post by Tasneemo)
Daaamn can't rep you
but I believe you're looking for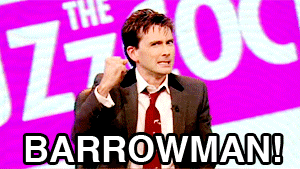 that gif than never be overused <3
Teehee, NMTB
Anyway... looking at the poll I have no idea why Series 5 is so popular! It's nothing new compared to the other series, maybe a little more exciting. I don't like 11 as much because he seems so... OOC compared to the other doctors. They had a lot more morals, it seemed. Thinking to the most recent episode, he blew up a whole ship of Cybermen to prove a point... Granted he's daring like that, but still... once, he would have cared more about committing 'genocide'.
So Amy/Rory are leaving as companions this Series... Good riddance for Amy, she's so annoying. She's married (!) and constantly flirting with the Doctor (in front of her daughter too, how embarassing
). Rory I liked, but it's time for a change.