Biotechnology
Industrial use of living organisms or parts of living organisms to produce foods, drugs and other products.
Microorganisms are used in biotechnological processes because:
- grow rapidly
- do not need complex growth conditions
- can be genetically engineered to produce specific products
- carry out complex processes
- small, so can be grown in large numbers in a small volume
- can be grown in a lab, not influenced by climate.
Standard growth curve
Limiting factors affecting population growth are:
- depletion of O2
- depletion of nutrients
- accumulation of toxic or acidic waste products.
The standard growth curve of a microorganism in a closed culture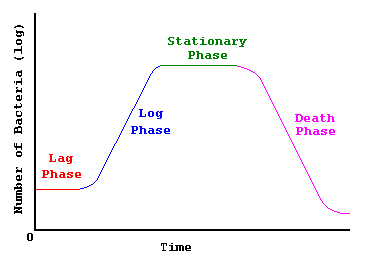 Lag phase
- Bacteria adjusts to surronding conditions
- reproduction rate is fast
- cells absorb nutrients
- cell expansion, activating specific genes and synthesising specific genes
- length depends on growing conditions.
Exponential phase (log phase)
- Reproduction rate is fast
- number of bacteria doubles every 20-30 minutes
- enough space, nutrients to reproduce
- log to the base 10 of the number of bacteria against time
Stationary phase (stable phase)
- Nutrient levels decrease
- waste products build up
- death rate = reproduction rate
- no growth occurs
Death phase (decline phase)
- Nutrient exhaustion
- increased levels of toxic waste products and secondary metabolites
- death rate > reproduction rate
- eventually all the bacteria die.
Primary and Secondary metabolites
Primary metabolites
- Compounds produced during an organisms metabolism for survival
e.g. AA, sucrose, lactate, ethanol
- matches the growth curve
Secondary metabolites
- Compounds produced that are not essential for survival
e.g. penicillin
- starts after the growth curve