The diagram shows a diffraction pattern.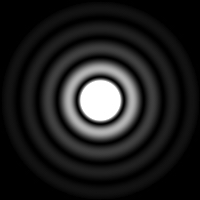 (a) Explain what is meant by diffraction.
The spreading of wave-fronts as a wave passes through a gap or around an obstacle.
(b) The diffraction pattern is produced by electrons passing through a thin sheet of graphite.
(i) State what this suggests about the behaviour of electrons.
They are also acting as waves
(ii) Suggest why substantial diffraction occurs.
Help?