In my spare time I train and compete in weightlifting. Last year I won a bronze medal at the Norwegian national championships in the women's -69kg class. I am also a qualified referee.
I love the sport and thought I'd make a thread about it for discussion and questions. Let's see if this takes off. Feel free to post corrections/additions to the OP as well.
What is "Olympic" weightlifting?
The proper name for Olympic weightlifting is actually just weightlifting. The Olympic part is normally added to establish that it is the sport being discussed and not lifting weights or weight training at the gym.
Weightlifting is a competitive sport in which athletes compete to lift the most weight combined from two barbell lifts called (somewhat hilariously) snatch and clean & jerk. Each athlete has 3 attempts at each lift giving a total of 6 lifts per competition.
Weightlifting is a sport that requires athleticism, flexibility, speed and physical and mental strength.
Athletes compete in different weight classes, more on this later on.
The competition lifts
The snatch
The snatch is the first lift to be performed in competition as it is the most technically challenging. The barbell is lifted from the floor over the athlete's head in one movement. Once the bar has passed the knees the athlete must not stop the movement or the lift will be failed. The bar must finish on locked out arms - it is not permitted to receive the bar on bent elbows and then straighten the arms (this is called press-out).
Polish -48kg lifter Marzena Karpinska snatching 78kg
The clean and jerk
Lifters will lift more in the clean and jerk than in the snatch. This is a 2-stage lift. The barbell is lifted from the floor to the shoulders (the clean) then from the shoulders to overhead on locked-out arms (the jerk). As with the snatch no press-out is allowed.
American -105kg lifter David Garcia clean and jerking 202kg
Who competes in weightlifting?
When most people think of weightlifters the images that normally pop into their heads are of super heavyweight lifters like these: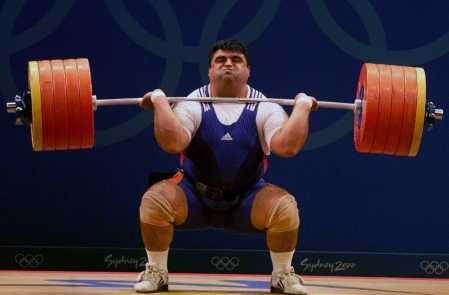 Hossein Rezazadeh, +105kg, Iran
Tatiana Kashirina, +75kg, Russia
But as mentioned above, weightlifters compete in different bodyweight classes, which means that anyone of any height and weight can do weightlifting.
There are 7 weight classes for women and they are:
-48kg, -53kg, -58kg, -63kg, -69kg, -75kg and +75kg
There are 8 weight classes for men and they are:
-56kg, -62kg, -69kg, -77kg, -85kg, -94kg, -105kg and +105kg
-56kg for example means that lifters entering this weight class must weigh in under 56kg bodyweight to be allowed to compete. Lifters competing in the super heavyweight classes (+75kg and +105kg) can weigh as much as they want.
Here are a few lifters from different weight classes:
Spoiler:

Show
Liao Hui, -69kg, China
Zoe Smith, -58kg, GBR
Khadzhimurat Akkaev, -105kg, Russia
Ilya Ilyin, -94kg, Kazakhstan
Zulfiya Chinshanlo, -53kg, Kazakhstan
Christine Girard, -63kg, Canada
How do weightlifters train?
Spoiler:

Show
Most lifters train mainly the competition lifts, plus both front and back squats and a variety of pulls (like deadlifts, but in the snatch or clean positions). They may also train purely the jerk from a rack or boxes. Professional lifters generally train twice a day and spend the rest of their time resting, stretching and getting massages.
Weightlifters are very fast, flexible and explosive, even the super-heavyweights. The positions required in the snatch and clean and jerk are pretty extreme and place a lot of strain on the joints.
Strength is obviously important to be able to lift the most weight, but the barbell must also be moved quickly so speed is of equal importance.
The most important muscles for a weightlifter are the quads (front of the thigh), glutes (bum) and back muscles. Arm muscles are much less important so you will rarely find a weightlifter training bicep curls!
Liu Xiaojun, -77kg, China - widely recognized as having one of the sickest back developments ever in weightlifting

Tl;dr
Weightlifting is an awesome sport.