What is your favourite football kit from the team you support? & what football kit would you flat out refuse to buy because it is breathtakingly hideous? So, Leeds United:
Best Home: 2000-2003 Kit. Simple. Classy. White.
Best Away: 03/04 Kit. Really liked this. The recent Macron away shirts have been very good too.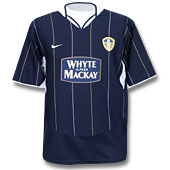 Worst Home: 06/07 Kit. Doesn't look spectacular, but my main gripe was that is was very crappy material.
Worst Away: 91/92 Kit. Hideous.
Inb4 'anything that has a Man Utd/Chelsea/Liverpool/Arsenal badge on it...