Britain may have just discovered an oil resource rivalling that of the North Sea, underneath the leafy shires of southern England. Independent exploration company U.K. Oil and Gas Investments Plc (UKOG) said Thursday it had discovered a "world class potential resource" after drilling at its site at Horse Hill in the Weald Basin, just north of London's second airport, Gatwick. If confirmed, the news could transform the energy balance of one of Europe's largest economies. The North Sea has produced about 45 billion barrels in 40 years.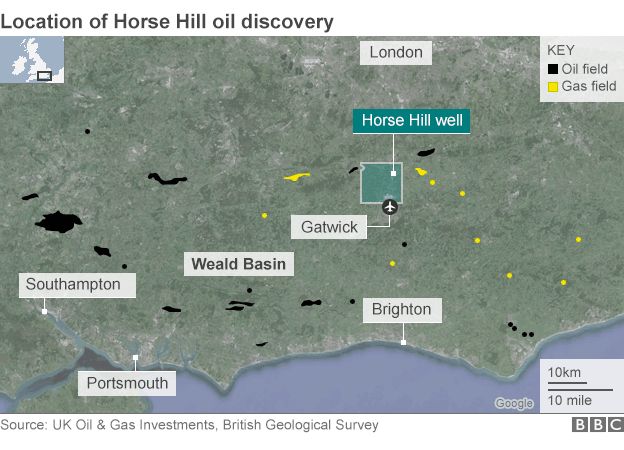 Britain discovered 100 billion barrel of oil reserves

"Based on what we've found here, we're looking at between 50 and 100 billion barrels of oil in place in the ground," UKOG CEO Stephen Sanderson told the BBC. A lot more drilling and well testing will be needed before that can be confirmed though. However, it had been widely assumed that only insignificant amounts could be recovered without using the controversial technique of hydraulic fracturing, or fracking. Resistance to fracking in the U.K. is high, but that did not stop an ecstatic market from sending shares of UKOG up over 200% in London Stock Exchange.
Biggest onshore oil find in the UK for the past 30 years


"To recover all the oil, fracking must be utilized like that in the United States," UKOG admits. "We think we've found a very significant discovery here, probably the largest [onshore in the UK] in the last 30 years, and we think it has national significance," CEO Sanderson said. "We believe we can recover between 5% and 15% of the oil in the ground by conventional method, which by 2030 could mean that we produce 10% to 30% of the UK's oil demand from here."


At the current oil price of around US$58 a barrel (Brent), the amount of oil UK Oil & Gas Investments claims is lying under the West Sussex countryside would be worth just under US$500bn, or £336bn. This is a boon for Britain as Scotland's North Sea oil industry continues to battle dwindling oil production. In 2014, the Organisation of the Petroleum Exporting Countries laid out how the North Sea oil industry was in dire straits. The average oil output in 2013 from the North Sea clocked its lowest level since 1977.


Greenpeace protests, saying the oil should be left inside the ground


But greenpeace activists are already protesting. Dr Doug Parr, Greenpeace UK's chief scientist, said: "Dotting the English countryside with drilling rigs and pipelines to squeeze the last drop of oil out of Britain doesn't make any sense. To gleefully rub your hands at a new fossil fuel discovery you need to turn the clock back to the 19th century and ignore everything we have learned about climate change since. We already have more than enough coal, oil, and gas reserves to fry the planet."
http://fortune.com/2015/04/09/has-br...thern-england/
http://www.bbc.com/news/business-32229203
http://www.thejournal.ie/uk-oil-strike-2037339-Apr2015/
http://www.telegraph.co.uk/finance/n...st-Sussex.html
http://uk.businessinsider.com/uk-oil...#ixzz3WoDYi3Bl
http://www.theguardian.com/business/...barrels-of-oil
https://uk.finance.yahoo.com/news/oi...065757445.html