(Original post by BBC News)
Apple has announced a new app that combines a streaming song and music video library, an internet radio station and a way for artists to share unreleased tracks and other material.
It includes a recommendation system
that uses both human curators and computer algorithms to suggest songs.
The service is set to challenge Spotify, Tidal and other music apps. The app will allow users to stream music from iTunes' library and save tracks for offline playback.
Apple also revealed that the UK will be the first country to get its Apple Pay service outside of the US.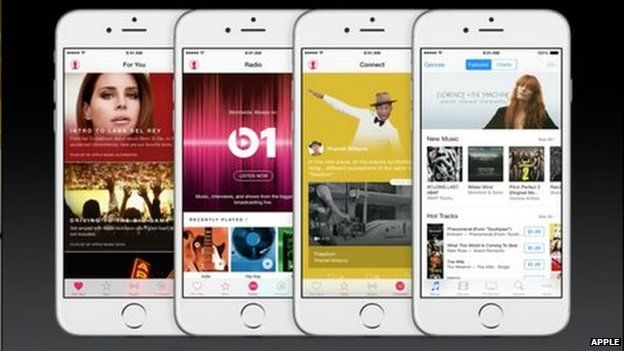 "A lot of people in the industry see the launch of the music service as a big deal, and their hope is that this will help take subscription-based streaming mainstream," commented Chris Cooke, from the news site Complete Music Update. "But Spotify has an ad-supported free level to help sell its premium packages, which Apple doesn't, so it still has a unique selling point."
The app also works with Apple's voice-controlled virtual assistant Siri, allowing subscribers to ask it to play a song from a movie soundtrack or year without needing to know the track's name.
Apple said the service would launch in more than 100 countries on 30 June, and would cost $9.99 (£6.50) per month in the US for one person - the same as Spotify - or $14.99 for families containing up to six people.
See the full article here:
http://www.bbc.co.uk/news/technology-33052584
So what do you think - given how huge Apple is, will they easily be able to outmatch Spotify? Or will Spotify's free service help them keep the edge?