The end of a fairly decent Spring season of anime is near, but having looked at what's to come less than a month from now, the Summer could end up being just as good, if not better! Here's a list of the upcoming full-length TV titles.
(These series are all due to air in the first few weeks of July. If you're looking for something to watch between now and then, maybe check last season's preview thread for some ideas!)
~*~*~*~*~*~*~*~*~*~*~*~
Akagami no Shirayuki-hime
Genre: Drama, Fantasy, Romance
Animation Studio: Bones
Japanese Airdate: Jul 4, 2015
Seiyuu: Hayami Saori, Oosaka Ryouta, Kaida Yuuko
Director: Andou Masahiro (Canaan, Zetsuen no Tempest)


(Original post by Summary:)
The story revolves around Shirayuki, a beautiful girl working as a medicine woman who has red hair, which is very rare in her country. When she is proposed and chased after by the prince of her country, she runs away, only to meet Zen, the prince of a neighbouring country. Finding respect for the young man, she decides to serve at his side as his court doctor.
An okay-sounding premise, but there's nothing in the synopsis that really jumps out at me. The director and studio producing it suggest that it'll at least look good, so for me the rest will depend on how likeable the characters are.
Aoharu x Kikanjuu
Genre: Action, Comedy, Slice of Life
Animation Studio: Brains Base
Japanese Airdate: Jul 3, 2015
Seiyuu: Komatsu Mikako, Maeno Tomoaki, Matsuoka Yoshítsugu
Director: Nakano Hideaki (Ben-To, Yoru no Yatterman)


(Original post by Summary:)
The manga follows high school student Hotaru Tachibana, a girl disguised as a boy. Through strange circumstances she finds herself drawn into the world of survival games by a host, Masamune Matsuoka. The two form a team with ero-manga artist Tohru Yukimura and aim to be the be the best in Japan
Another anime series revolving around airsoft survival games? Most of the ones I've watched so far have been fairly wacky, and this sounds like it'll be no exception – looking forward to finding out what the 'strange circumstances' that bring these characters together are!
Aquarion Logos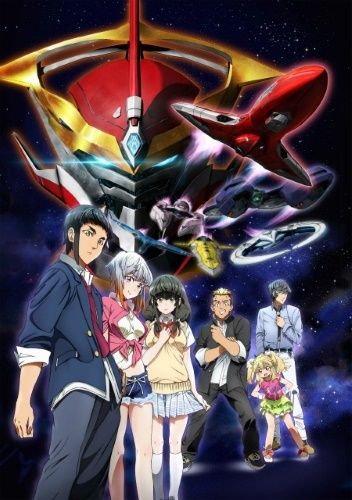 Genre: Action, Fantasy, Mecha
Animation Studio: Satelight
Japanese Airdate: Jul 3, 2015
Seiyuu: Shimazaki Nobunaga, Sakura Ayane, Asai Takayuki
Director: Satou Hidekazu (Nobunaga the Fool, Kiss Dum: Engage Planet)


(Original post by Summary:)
A new anime in the Aquarion series.
Not much I can add to this, since I've not watched any of the earlier Aquarion series. Nice trailer though, so maybe I'm missing out.
Chaos Dragon: Sekiryuu Sen'eki
Genre: Action, Fantasy, Supernatural
Animation Studio: Silver Link
Japanese Airdate: July 2, 2015
Seiyuu: Sawashiro Miyuki, Inoue Marina, Saitou Souma
Director: Matsune Masato


(Original post by Summary:)
The story takes place in the sparkling era year 3015, where the great nations Donatia and Kōran divide the world in a cold war as they fight for supremacy. In the middle of this standoff is island country Nil Kamui, which has lost its independence
I might be over-hyping this somewhat, but a series adapted from the tabletop RPG sessions of a group including Narita Ryohgo (Durarara!! manga-ka), Gen Urobochi (Fate/Zero author) and Nasu Kinoko (Fate/Stay Night writer) has got to be worth a look!
Charlotte
Genre: School, Super Power
Animation Studio: P.A. Works
Japanese Airdate: Jul 2015
Seiyuu: Uchida Maaya, Uchiyama Kouki, Sakura Ayane
Director: Asai Yoshiyuki


(Original post by Summary:)
The story centres around the special abilities that occur among a small percentage of boys and girls in puberty. Yuu Otosaka uses his power without others knowing, and lives a fairly normal, average school life. Before him suddenly appears a girl, Nao Tomori. Due to his meeting with her, the fate of special power-users will be exposed.
The latest story from Maeda Jun, creator of Angle Beats! (sorry, the trailer typos cracked me up). Sudden onset super powers in a high school setting seems to be as much of a rising theme as airsoft survival, but this one should feature plenty of drama and feels.
Classroom☆Crisis
Genre: Comedy, Romance, School
Animation Studio: Lay-duce
Japanese Airdate: Jul 4, 2015
Seiyuu: Morikubo Shoutarou, Ozawa Ari, Amamiya Sora
Director: Nagasaki Kenji (No.6, Gundam Build Fighters)


(Original post by Summary:)
With aims to one day reach out into the stars, humanity has colonized all the planets of the solar system. This story of young high school hopefuls is set in Fourth Tokyo in a Japanese Martian prefecture. Iris Shirasaki is a third year student/aspiring test pilot. Mizuki Sera is her peer/mechanic and Mizuki's brother Kaito is their homeroom teacher and the young director of the program developing their talents.
Looks like a standard slice of life/romantic comedy series... but on Mars. Likeable characters are key in a series like this, though any interesting future technology might help it out too. The new studio adds to my curiosity... have to wonder where that name came from!
Dragon Ball Chou
Genre: Action, Adventure, Super Power
Animation Studio: Toei Animation
Japanese Airdate: Jul 5, 2015
Seiyuu: Nozawa, Masako
Director: Chioka Kimitoshi (Kamisama Kazoku, Hakaba Kitarou)
(Original post by Summary:)
Reuniting the franchise's iconic characters, Dragon Ball Super will follow the aftermath of Goku's fierce battle with Majin Buu as he attempts to maintain earth's fragile peace.
This is where my anime soc leadership credentials may be called into question... I've not watched Dragon Ball Z. I HAVE finally read the original Dragon Ball arcs of the manga, but that was only last year. So until the day I finally sit down and marathon the lot, I won't be watching Chou.
Durarara!!x2 Ten
Genre: Action, Mystery, Supernatural
Animation Studio: Studio Shuka
Japanese Airdate: Jul 4, 2015
Seiyuu: Toyonaga Toshiyuki, Fukuyama Jun, Ono Daisuke
Director: Oomori Takahiro (Baccano!, Kuragehime)
(Original post by Summary:)
A second season of Durarara!! is in the works. The story takes place a half year after the first series at Tokyo's Ikebukuro neighborhood.
The second series of the second series of Durarara!!, adapting more of the first arc... think I got that right?
Its place on my watching list for next season is guaranteed, especially after that cliffhanger!
Fate/kaleid liner Prisma☆Illya 2wei Herz!
Genre: Action, Comedy, Fantasy
Animation Studio: Silver Link
Japanese Airdate: Jul 25, 2015
Seiyuu: Kadowaki Mai, Saitou Chiwa, Nazuka Kaori
Director: Jinbou Masato (Fate/Kaleid Liner Prisma Illya Zwei!, Kyou no Asuka Show)


(Original post by Summary:)
Based on the Fate/Kaleid Liner Prisma☆Illya 2wei! manga by Hiroshi Hiroyama, itself a spin-off of the Fate/stay night erotic visual novel by Type-Moon.
The second series of the second series of a spin-off of Fate/Stay Night... why are things suddenly getting so complicated? As with Durarara!! though, my decision is an easy one: I've not seen the earlier series, so will be skipping this.
Gakkou Gurashi!
Genre: Fantasy, Horror, School
Animation Studio: Lerche
Japanese Airdate: Jul 9, 2015
Seiyuu: Minase Inori, Takahashi Rie, Ozawa Ari
Director: Andou Masaomi (Muv-Luv Alternative: Total Eclipse, White Album 2)
(Original post by Summary:)
The story revolves around four girls who decide to stay over at school: the energetic Yuki Takeya, the shovel-loving Rumi, the center of the group Rurii, who brings everyone together, and Megu, the spacey school adviser. However, through mysterious circumstances, the girls find themselves the final survivors in a zombie attack, and continue to live at the school.
It's got to be said, having a shovel-loving friend by your side at the outbreak of a zombie apocalypse can only be an advantage.
Chances are good I'll pick this up, there are surprisingly few zombie anime out there already, and the clash with the usual moe high school girl tropes could be fun.
Gangsta.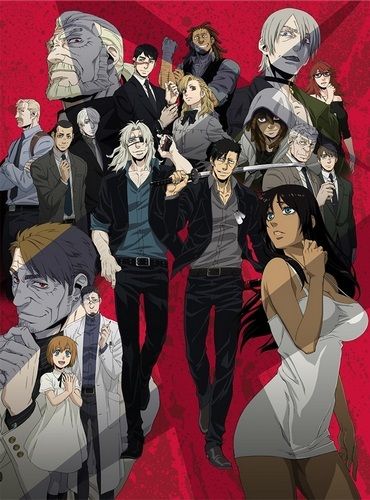 Genre: Action, Drama, Comedy
Animation Studio: Manglobe
Japanese Airdate: Jul 2, 2015
Seiyuu: Noto Mamiko, Tsuda Kenjirou, Suwabe Jun`ichi
Director: Murase Shuukou (Witch Hunter Robin, Ergo Proxy)


(Original post by Summary:)
In the city of Ergastulum, a shady ville filled with made men and petty thieves, whores on the make and cops on the take, there are some deeds too dirty for even its jaded inhabitants to touch. Enter the "Handymen," Nic and Worick, who take care of the jobs no one else will handle. Until the day when a cop they know on the force requests their help in taking down a new gang muscling in on the territory of a top Mafia family. It seems like business (and mayhem) as usual, but the Handymen are about to find that this job is a lot more than they bargained for.
Gangs, Mafia and 'Handymen', with fairly decent animation judging by the trailer. I'm interested! Looks different enough from Durarara!! to justify picking up both, with its older cast and (presumed) lack of fantasy/supernatural elements.
Gatchaman Crowds insight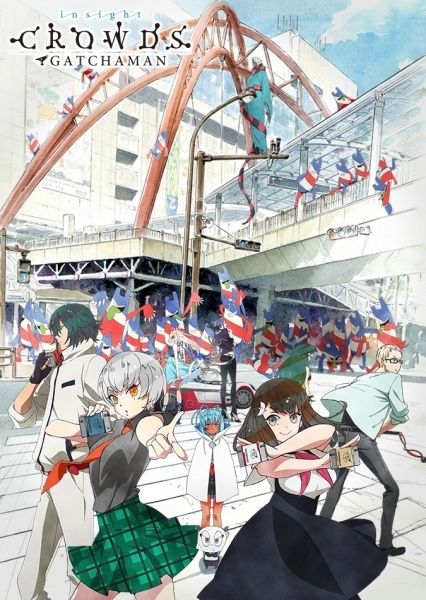 Genre: Adventure, Sci-Fi, Action
Animation Studio: Tatsunoko Productions
Japanese Airdate: Jul 3, 2015
Seiyuu: Uchida Maaya, Oosaka Ryouta, Hirano Aya
Director: Nakamura Kenji (Tsuritama, Mononoke)
(Original post by Summary:)
Continuation of Gatchaman Crowds series.
A close second to Durarara!! in terms of most anticipated sequels! Gatchaman Crowds had its flaws, but it was such a fun series that I could easily forgive them. Can't wait to see how Hajime and the rest of the cast face whatever new threat is coming Earth's way.
Gate: Jieitai Kanochi nite, Kaku Tatakaeri
Genre: Action, Fantasy, Military
Animation Studio: A-1 Pictures
Japanese Airdate: Jul 4, 2015
Seiyuu: Suwabe Jun`ichi, Kanemoto Hisako, Touyama Nao
Director: Kyougoku Takahiko (Love Live! School Idol Project, Snow Halation)


(Original post by Summary:)
The military fantasy series begins when a gate appears in Tokyo's Ginza district sometime in the 21st century. From the gate pours out monsters, knights from middle-age Europe, and other fantasy-like beings, and they kill many of the citizens of Tokyo. This event is known as the Ginza Incident.
I hope the fantasy world has magic, because the trailer made it seem very one-sided, orcs with clubs and elves with arrows against tanks and guns (with jolly music playing throughout). Nice to see our world didn't start the fight for once, though! Very intrigued by this.
God Eater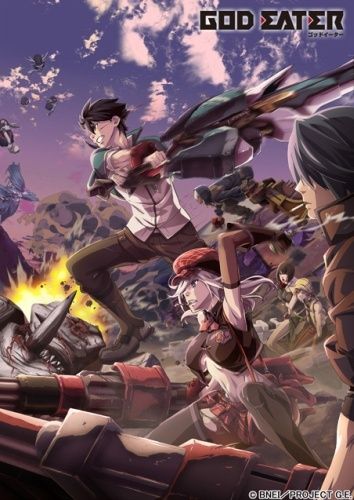 Genre: Action, Supernatural, Military
Animation Studio: ufotable
Japanese Airdate: Jul 5, 2015
Seiyuu: Sakamoto Maaya, Hirata Hiroaki, Sakaguchi Daisuke
Director: Hirao Takayuki (Gyo, Majokko Shimai no Yoyo to Nene)


(Original post by Summary:)
Anime adaptation of Bandai Namco's PSP action game series "God Eater."

Set in Japan in the year 2071 where the world has been mostly destroyed by mysterious monsters known as the Aragami. An organization known as Fenrir was made to exterminate Aragami using weapons called God Arcs which is made from the cells of an Aragami. Those who specialize in exterminating Aragami are known as God Eaters. Originally God Eaters had one type in which their God Arcs can only keep gun form or blade form, however a new type has been discovered that can switch between gun and blade form. Since then, they have been classified new-types and the previous as old-types.
A lot of the same tags as Gate, but these threats to humanity seem to be more of the generic monster type. If this series has anywhere near the budget of ufotable's currently ongoing Fate/Stay Night series, I'll watch it for that alone. But please, PLEASE let it have better pacing!
Himouto! Umaru-chan
Genre: Comedy, School, Slice of Life
Animation Studio: Dogakobo
Japanese Airdate: Jul 9, 2015
Seiyuu: Tanaka Aimi, Nojima Kenji, Furukawa Yurina
Director: Oota Masahiko (Minami-ke, Sabagebu!)


(Original post by Summary:)
An anime adaptation of Himouto! Umaru-chan manga. The sibling gag comedy manga centers around Umaru, Taihei's little sister who boasts beautiful looks as well as prowess in both school and sports. However, "Himouto" (beautiful little sister) has a certain secret.
Optimistic about this one, since the director has a ton of experience when it comes to gag manga adaptations, and a lot of his earlier works rank among my favourite comedy series. But the real test will be, as ever, does the first episode make me laugh or not.
Jitsu wa Watashi wa
Genre: Comedy, Fantasy, Romance
Animation Studio: TMS Entertainment
Japanese Airdate: Jul 7, 2015
Seiyuu: Serizawa Yuu, Hanae Natsuki, Minase Inori
Director: Yamamoto Yasutaka (Shinryaku!? Ika Musume, Mondaiji-tachi ga Isekai kara Kuru Sou Desu yo?)


(Original post by Summary:)
The romantic comedy centers around Asahi Kuromine, who has a crush on a cute girl named Yōko Shiragami. Shiragami just happens to be a vampire. Asahi cannot keep a secret, but he is determined to keep Shiragami's secret anyways.
Vampire romcom... takes me back to my early anime days, and Karin... anyway, somewhat generic setting, doesn't stand out much compared with the season's other offerings, but could be good if the characters and comedy are amusing.
Joukamachi no Dandelion
Genre: Action, Comedy, Slice of Life
Animation Studio: Production IMS
Japanese Airdate: Jul 3, 2015
Seiyuu: Hanazawa Kana, Kayano Ai, Murase Ayumu
Director: Akitaya Noriaki (Bakuman., Persona 3 the Movie)


(Original post by Summary:)
In the manga's story, the everyday lives of the nine super-powered siblings of the royal family are monitored by more than 200 surveillance cameras and broadcast nationwide. The people of the nation who are watching the broadcast will have the ability to elect the next monarch. The story focuses on Akane, the third-oldest sister who can manipulate gravity. She is shy and desperately does not want to be caught on camera.
Electing leaders based on a reality TV series is an interesting concept in its own right; giving them powers seems like overkill, but that's probably just me being tired of all the 'every day life, but with super powers' shows out there at the moment.
Junjou Romantica 3
Genre: Drama, Romance, Shounen Ai
Animation Studio: Studio Deen
Japanese Airdate: Jul 9, 2015
Seiyuu: Sakurai Takahiro, Hanada Hikaru, Namiki Noriko
Director: Kon Chiaki (Sekaiichi Hatsukoi, Golden Time)


(Original post by Summary:)
The third season of Junjou Romantica.
I've not watched the two earlier series, so won't be watching this, though the trailer (one of the few I found subtitled!) was amusing.
Kangoku Gakuen Prison School
Genre: Comedy, Ecchi, Romance
Animation Studio: J.C. Staff
Japanese Airdate: Jul 11, 2015
Seiyuu: Okitsu Kazuyuki, Kamiya Hiroshi, Konishi Katsuyuki
Director: Mizushima Tsutomu (Shirobako, Dai Mahou Touge)


(Original post by Summary:)
Hachimitsu Private Academy was a revered and elite all-girls' boarding school on the outskirts of Tokyo...once upon a time. But with the new school year comes a revision to school policy: Boys are to be admitted into the student body for the first time ever. But on his first day at Hachimitsu, Kiyoshi Fujino discovers that he's one of only five boys enrolled at the school. Their numbers overwhelmed by the thousand girls in the student body, is it heaven or hell that awaits these five (un)fortunates?!.
I thought this summer seemed short on ecchi... what's with those character designs, though? Specifically, that one guy's face? I'll give the first episode a try, just in case, but (sequels to anime I haven't watched aside) this is looking like the first categorical NO of the season.
Kuusen Madoushi Kouhosei no Kyoukan
Genre: Action, Fantasy, Magic
Animation Studio: Diomedea
Japanese Airdate: Jul 9, 2015
Seiyuu: Matsuoka Yoshítsugu, Yamamoto Nozomi, Touyama Nao
Director: Inagaki Takayuki (Rosario to Vampire, Seiken Tsukai no World Break)


(Original post by Summary:)
The story is set in a world where humanity, driven off the land by the threat of magical armoured insects, now live in aerial floating cities. Thus wizards—aerial combat mages who fight the insects with magical powers—came into being.

Kanata Age is a young man who lives on the floating wizard academy city of "Misutogan." He was once celebrated as the "Black Master Swordsman," the elite ace of the S128 special team; however, he is now despised as the "traitor of the special team." One day, he is assigned as the instructor of E601, a team that has suffered ten consecutive defeats. E601 has three girls—Misora Whitale, Lecty Eisenach, and Rico Flamel—with one or two peculiar quirks.
The first 'battle-harem' of the season. With no real animation in the trailer, and no details about why our protagonist is considered a traitor, or what 'quirks' his new team have, there's little to make this stand out.
Makura no Danshi
Genre: Healing, Sleeping, Pillows
Animation Studio: Feel
Japanese Airdate: Jul 2015
Seiyuu: Hanae Natsuki
Director:
(Original post by Summary:)
The anime promises a "new and novel 'sleeping side-by-side' experience entirely in the first-person perspective" to "heal tired hearts." It revolved around 12 "makura no danshi" (pillow boys), all full of distinctly individual personalities and each catering to viewers who like a certain "type." The boys all live in the same town underneath a starry sky. Each of the "makura no danshi" will star his own weekly episode as they "sleep beside you and whisper."
There's barely any information out about this yet, but it's a first person perspective, sleeping with pillow boys anime, does it need anything else? I'm strongly assuming it's going to be a short, but hoping it isn't.