Zimbabwe has shut down the country's second largest mobile phone service provider, Telecel Zimbabwe, for breaching the black empowerment laws, AFP reported. Netherlands-based VimpelCom has a 60% stake in Telecel Zimbabwe, making it the majority shareholder. According to Zimbabwe's indigenisation law, foreign companies must cede majority shares to local Black partners.
Zimbabwe shut down country's second largest mobile telco because Blacks did not own 51% of the company
"The Telecel Zimbabwe licence has been cancelled," the country's Postal and Telecommunications Regulatory Authority (POTRAZ) said in a statement. POTRAZ did not give reasons for the move, but Information and Communication Technology Minister Supa Mandiwanzira warned last month of Telecel's impending closure for a breach of the black empowerment law and failing to pay a licence fee.
"Our position that Telecel has been operating without a licence and failed to honour local empowerment laws is the same position that has been adopted by Cabinet," Mandiwanzira said. To minimise the inconvenience to Telecel's two million subscribers, POTRAZ said it had issued a special 30-day licence to enable Telecel to wrap up its business. "During this period, it is expected that Telecel Zimbabwe subscribers switch to alternative networks," the authority said. "A further 60 days has been given to Telecel Zimbabwe to decommission their telecommunication equipment," it added.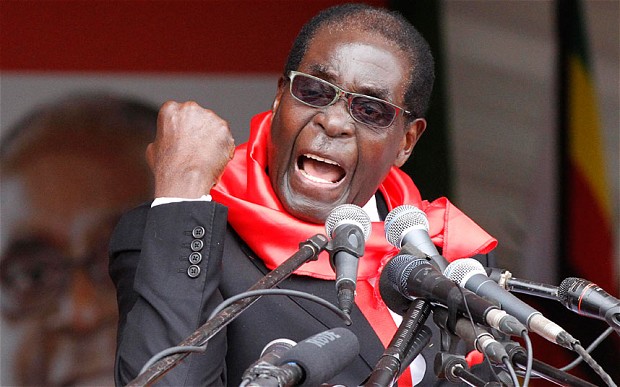 Zimbabwe President Mugabe: Black people are the owner of the land, they must be supreme in this country
Zimbabwe, once the economic powerhouse of southern Africa, is all but financially ruined. A decade on from crippling hyperinflation and the introduction of a Z$100bn note before the currency was abandoned altogether, farmers are going unpaid and the government coffers are empty. The country is now seeking financing from international donors. Bodies such as the IMF, the World Bank and the African Development Bank have previously refused to fund the Zimbabwean government. The IMF has urged Zimbabwe to review its racial "indigenisation" policy, which has scared off much-needed investment in the country's moribund economy.
Before its independence in 1980, Zimbabwe, formerly known as Rhodesia, used to be one of Africa's richest. Agriculture was so robust that it earned the nickname 'breadbasket of Africa', exporting wheat, tobacco, and corn to the rest of the continent and beyond. The educational system in Zimbabwe was also once regarded as among the best in Africa. Economy however, was dominated by the White minority. In 1975, the average annual income per head for Rhodesian white people was around US$8,000 – in an era when the Japanese average income was US$4,600, American US$7,800 and British US$4,400 - making them one of the richest communities in the world. The Zimbabwean Dollar in 1980 was of higher value than the US dollar, at 1 ZWD = 1.47 USD
Zimbabwe once had a robust agriculture sectors, but it was dominated by the Whites
As the country gained independence, under a ZANU-PF government led by Robert Mugabe, who champions Black supremacy and the redistribution of wealth from Whites to Blacks, the white population in Zimbabwe began to dwindle. Emigration gathered pace. In the ten-year period from 1980 to 1990 approximately two thirds of the white population left the country. However, many white people resolved to stay in the new Zimbabwe. Only one third of the white farmers left. An even smaller proportion of white urban business owners and members of the professional classes left. This pattern of migration meant that although small in absolute numbers, Zimbabwe's white people formed a high proportion of the upper strata of society.
After independence, the ZANU-PF party under Mugabe champions Black supremacy and redistribution of economic power from Whites to Blacks
The ZANU-PF party claims that the Blacks are the native owner of the land and hence should be entitled to the wealth of the nation. But despite all efforts of the government, the Blacks continue to lag behind the Whites. In 2000, 20 years after independence, Robert Mugabe can no longer take it. The whites are controlling too much of the economy. Mugabe then initiated a law to seize white-owned farms without compensation, distributing them among the Blacks.
Zimbabwe begins to violently seize White-owned farms since 2000, leading to an economic collapse
But the Black people do not possess the same entrepreneurial skills as the Whites. Between 2000 and 2007, the national economy contracted by as much as 40%; inflation vaulted to over 66,000%, and there were persistent shortages of hard currency, fuel, medicine, and food. GDP per capita dropped by 40%, agricultural output dropped by 51% and industrial production dropped by 47%. By November 2008, inflation was 89,700,000,000,000,000,000,000% and prices were rising every second. In February 2009, 1 USD = 300 trillion ZWD.
By 2009, the country was ruined, 1 USD fetching 300 trillion Zimbabwe dollar
"The harsh facts in Zimbabwe are that government imposed easily identified policies that were directly responsible for severe decreases in business activity," John Robertson, a Zimbabwean economist, told The Independent. "The worst of the policy choices include the nationalisation of white farmlands, which destroyed its collateral value, and the indigenisation policy, through which government demands the surrender of 51% of the shares in every business owned by a non-Black person or company."
Poor management: farm harvest drops sharply after distributing to Blacks
Done on the agricultural sectors, Mugabe turned towards mining (Zimbabwe economy is dominated by agriculture and mining) As with other southern African countries, the Zimbabwean soil is rich in raw materials, namely platinum, coal, iron ore, gold and also diamonds. Copper, chromite and nickel deposits exist, though in lesser amounts. The Marange diamond fields, discovered in 2006, are thought to be among the richest in the world. But the mining sectors are dominated by foreign multinationals. These operations were usually run by white managers, engineers, and foremen.
After agriculture, Mugabe turns to mining, asking foreign multinationals to surrender 51% of their shares to local Blacks
Learning from his agricultural fiasco, Mugabe did not outright seize foreign mines, instead, in March 2011, the government of Zimbabwe implemented laws which required 51% Black ownership of mining companies. Following this regulations, the mining industry in Zimbabwe began to dismantle. In April 2012, Zimbabwe's Black Empowerment Minister, Saviour Kasukuwere, announced that, "All mining companies that have not complied... should note that 51% of their shareholding is now deemed to be owned by the state." Investor confidence collapsed overnight.
Zimbabwe's Black-only stock exchange, trading shares of companies seized from the Whites
In August 2013, Zimbabwe opened a new and racially exclusive Black-only stock exchange, allowing Blacks alone to trade shares of companies seized from the Whites. Mugabe says Black Zimbabweans need help as they faced discrimination during white minority rule, which long ended in 1980. He says giving Black Zimbabweans control of the business sector is the next step. "We will do everything in our power to ensure our objective of total indigenisation, empowerment, development and employment is realised. This policy is the final phase of the liberation struggle and final phase of total independence." Soon afterwards, the 51% Black ownership policies are extended to banks, retailers and telecoms. "It is doing so much damage to the country in terms of attracting investors for job creation. The policy is very bad," said Harare-based economist John Robertson. The confusion comes as Zimbabwe seeks massive foreign investments to rebuild its economy, which was devastated by a violent land reform programme in which white-owned farms were seized. "We have lost the potential to attract investment. The indigenisation policy is ill-advised and damages the economy. Which investor would want to invest where half of his investment will be taken and wouldn't have a say in the running of their businesses?"
After agriculture and mining, it is now banks, retail and telecoms
The International Monetary Fund (IMF) is painting a gloomy outlook for the country's economy, warning a further decline this year, and has challenged government to come up with "strong policies and reforms" for Zimbabwe to achieve its growth potential, while pointing out the country's five-year economic blue- print ZimAsset is not enough to rescue itself. "Zimbabwe is currently performing below its growth potential, requiring strong polices and reforms," said the IMF.
tomato source:
http://www.newzimbabwe.com/opinion-2...a/opinion.aspx
http://www.newsdzezimbabwe.co.uk/201...n-telecel.html
http://www.irinnews.org/report/10149...-a-food-crisis
http://nehandaradio.com/2015/05/13/t...y-in-zimbabwe/
http://allafrica.com/stories/201504240146.html
http://news.yahoo.com/zimbabwe-shuts...144716631.html