Rupert Murdoch owns 4 UK newspapers and These newspapers are as follows
1.The Sun- who are vindictively against labour apart from the Blair years.
2.The Times
3. Sunday Times
4. Press Association
He also owns 39% of Sky group in the UK which includes Sky News, Sky Sports, Sky Travel, Sky One, Sky Movies, Artsworld
In addition to this post I will include a poll- and let me make this clear the question I am asking is not
DOES MURDOCH INFLUENCE YOUR DECISION
BUT
DOES MURDOCH INFLUENCE ANYONES OPINON.
Firstly lets have a look at some background information Murdoch owns his 4 papers but the most prestigious is the SUN so i will be going more heavily from this newspaper.
In the SUN Murdoch always supports the candidate who was going to win- and how does he do this with Savage attacks on the oppositions leader. In the 1980's he backed thatcher which is shown in this picture
This shows that they backed Thatcher in her tenure- back then the sun had a huge readership and they said voting conservatives was the only way of stopping the rot. I'm not showing my bias towards labour in this post because I am not typing down what I think. It is certain that the Sun had millions of readers back then and then they back it up with evidence going from a poll which have proved to be wrong in the past.(1992 Election). So did he manipulate people with very little political knowledge such as the majority of students- and people who have never took an interest in politics to vote for thatcher. I'm not for a minute saying thats the reason why she won 3 in a row but i think that many people may have been manipulated by the Suns coverage which showed a right wing coverage.
Major - They predicted that he would beat Kinnock and then used all resources possible to brainwash the reader who may not have any or very little political knowledge
Then they did personal attacks on Neil Kinnock- who should have had the majority of the votes in this election according to the polls- even the exit poll had Labour to be biggest party.
Then following an argument with Major, Murdoch withdrew support in his papers because Major then had an argument with Murdoch regarding the European policies. Murdoch is a rich person and he withdrew support for the conservatives so you would think he would go to the most similar party in the Liberal Democrats- this didn't happen like the majority of the country he backed Blair- I think Blair would have won without Murdochs support but I don't think his majorities would have been so big.
So thats that one out of the way.I'll hapilly admit that i'm a leftie but I was shocked to learn that Murdoch actually supported labour what so ever. In 2009 when Labour Leadership was given to the Scots man Gordon Brown- Murdoch withdrew his support for the Labour party and went back to his original roots.
In 2010 he backed Cameron- although he did not win the election out and out with a majority he still ended up Primeminister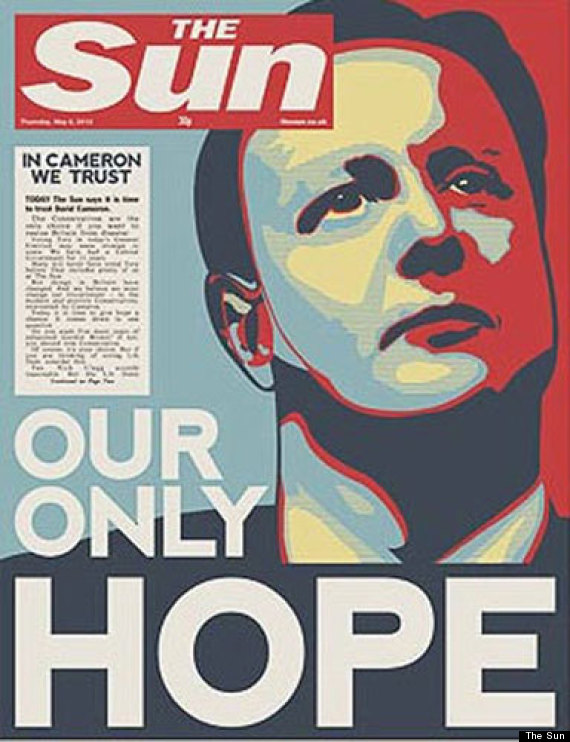 During this campaign i recall some attacks on not only Labour policy under Brown but they attacked Brown himself- I can not find any images on this and if I do i will update this post with those images.
In 2015 the Sun also backed Cameron this time he got the majority he wanted- and there was two ways Murdoch helped materialise this one In Scotland Murdoch ordered his employees to support the SNP who wiped out support for Labour, Conservatives and Liberal Democrats in Scotland there is no doubt that Labour was the biggest loser on this as they had most seats in Scotland at the time. In England Murdoch supported David Cameron and the Conservatives again this time they got their majority.
The First Image i will post is on the Scotish edition of the Sun.
Now I have no problem with the Sun backing the SNP in Scotland it was likely that they was going to win the majority of seats in Scotland- now with this publicity I think this may well have convinced some people who was going to vote for the Labour party to go to SNP.
Now this is Both them backing the tories and an attack on Labour at the precise same time- saying Labour was long and painful but thats down to political opinion - and i believe the Sun shouldn't promote which leader to vote for as it may give them a slight advantage over others.
I'll add a bonus post later on attacks on Milliband and that will be the last post i will be making before i start discussing. But my current conclusion is that the Sun is a popular paper- i think it gets its popularity from the page 3 models and then on the front page news stories they advertise political parties which is normally the conservatives during an election. The only reason they supported Blair was because Murdoch had an argument with Major and if there is say for example 1 million sun newspapers sold each morning ( i would not be suprised if its more) then there will be some people who will read Murdochs bias claptrap and will vote for the conservatives- it may not win an election but it may influence how individuals vote. So i will be back later with the bonus post . I will also put up the poll so you can start voting. REMEMBER:I am asking is not
DOES MURDOCH INFLUENCE YOUR DECISION
BUT
DOES MURDOCH INFLUENCE ANYONES OPINON.