Despite my computer woes and general lack of enthusiasm for the upcoming season, here's another preview thread! Many thanks to Caraniel for providing most of the image links, and a load of other information that (while greatly appreciated) I ended up not using much of as our formatting is so different.
(These series are all due to air in the first few weeks of October. If you're looking for something to watch between now and then, maybe check last season's preview thread for some ideas!)
~*~*~*~*~*~*~*~*~*~*~*~
Aikatsu! 4
Genre: Music, School, Slice of Life
Animation Studio: Sunrise
Japanese Airdate: October 2015
Seiyuu: Morohoshi Sumire, Kawakami Chihiro, Ishikawa Yui
Director: Kimura Ryuichi (Sakura Taisen: New York NY., Aikatsu! 3)
(Original post by Summary:)
The fourth season of Aikatsu! continues on from season 3 with an introduction a brand-new idol unit from Hokkaido.
Great start, a sequel to something I haven't watched. Sounds like it'll carry on from the currently airing 3rd series without a break though, good for fans.
Brave Beats
Genre: Adventure, Music, Sci-fi
Japanese Airdate: Oct 11, 2015
Seiyuu: Yoshida Yuuri,Kokido Shiho, Sakurai Tooru
Director: Murano Yuuta
(Original post by Summary:)
Hibiki Kazaguruma, a sixth grader, meets an amusing little robot named Bureikin while coming home from school one day. Bureikin, a dancer from an alternate-dimension dance world, challenged the dance king for the throne and lost. He has been deprived of Dance Stones (the stones of dance power) and sent to the human world. To restore his power, Bureikin must collect all the Dance Stones scattered around Earth.
A new dance anime from the creators of Tribe Cool Crew! The latter has been good fun, while hardly the greatest anime I've ever watched, so I'll give this a look.
Cardfight!! Vanguard G: Gears Crisis-hen
Genre: Action, Game, Shounen
Animation Studio: TMS Entertainment
Japanese Airdate: Oct 11, 2015
(Original post by Summary:)
Second season of Cardfight!! Vanguard G series.
Card games and crazy hair. There's probably more to it than that, but without having watched any previous Cardfight!! series, there's not much else to say.
Comet Lucifer
Genre: Adventure, Fantasy, Mecha
Animation Studio: 8 Bit
Japanese Airdate: Oct 4, 2015
Seiyuu: Oohashi Ayaka, Takahashi Rie, Kobayashi Yuusuke
Director: Kikuchi Yasuhito (Macross Frontier, IS: Infinite Stratos)


(Original post by Summary:)
On the planet Gift there are precious crystals called Giftjium buried in the earth. A young man named Sōgo lives in Garden Indigo, a prosperous mining town. Sōgo's hobby is to collect rare crystals. One day, he gets wrapped up in a riot caused by his classmates Kaon, Roman, and Otto, and he loses his way until he finds a lake deep under the ground's mining ruins. There, he meets a mysterious girl with blue hair and red eyes that gaze straight ahead. The story follows the adventure of what happens after this meeting.
Boy meets mysterious girl is an old anime staple, and the synopsis doesn't give much else away. Nice trailer though, and anything tagged fantasy always piques my interest.
Concrete Revolutio: Choujin Gensou
Genre: Action, Super Power
Animation Studio: Bones
Japanese Airdate: Oct 4, 2015
Seiyuu: Uesaka Sumire, Ishikawa Kaito, Toyosaki Aki
Director: Mizushima Seiji (Kidou Senshi Gundam 00, Un-Go)


(Original post by Summary:)
In an imaginary age of gods about 20 years after the war, Japan is flooded with all the superhumans ever written about in fictional stories: titans from outer space, lifeforms from a mystical world, phantoms and goblins from ancient times, cyborgs created by scientists, relics that rose out of the ruins of ancient civilizations, and the list goes on. Some of them make no secret of their existence and have gained popularity in the society, while others cloak their identities and fight in secrecy.

Naturally, the Japanese government cannot ignore the existence of these superhumans and establishes an organization under the Ministry of Health and Welfare - the Overpopulation Research Laboratory, a.k.a. the Superhuman Bureau. Their mission is to identify and approach superhumans, then oversee and safeguard them. One member of the Superhuman Bureau, Hitoyoshi Jirou, is the protagonist of this series.
Sounds like a cross between Kekkai Sensen (final episode WHEN!?) and this season's Charlotte. Animation should be brightly coloured and pretty, going by the PV.
Dance with Devils
Genre: Demons, Romance, Supernatural
Animation Studio: Brains Base
Japanese Airdate: Oct 7, 2015
Seiyuu: Akaneya Himika, Saitou Souma, Hirakawa Daisuke
Director: Yoshimura Ai (Ao Haru Ride, Yahari Ore no Seishun Lovecome wa Machigatte Iru.)


(Original post by Summary:)
Tachibana Ritsuka is a female second-year high school student who attends Shiko Academy in Shiko Town. She enjoys her school life while living with her mother Maria, but one day, that balance falls into ruin when she discovers several of her attractive male classmate are demons.
Looks like another fabulous reverse harem show, possibly musical unless the trailer is lying. Character designs aren't anything special, so lets hope their personalities make up for that.
Gakusen Toshi Asterisk
Genre: Action, Ecchi, Sci-fi
Animation Studio: A-1 Pictures
Japanese Airdate: Oct 3, 2015
Seiyuu: Tamaru Atsushi, Touyama Nao, Izawa Shiori
Director: Setou Kenji (Weiss Survive R, Wooser no Sono Higurashi Kakusei Hen)


(Original post by Summary:)
The Academy City on water Rikka, otherwise known as Asterisk, is famous for being the world's largest stage for the integrated battle entertainment Star Wars Festival. The young boys and girls of the Starpulse Generation belonging to the six academies make their wishes with Shining Armaments in their hands, vying for supremacy, and Amagiri Ayato is one of them.

Ayato arrives in Rikka at the invitation of Claudia Enfield, the Student Council President of the Seidoukan Academy. Right after that, he incurs the wrath of the Petalblaze Witch Julis-Alexia von Riessfeld and ends up having to duel her.
Looks like a generic battle harem show, the first of several to come in this preview thread. Nothing about this stands out for me.
Garo: Guren no Tsuki
Genre: Action, Demons, Fantasy
Animation Studio: MAPPA
Japanese Airdate: Oct 10, 2015
Director: Wakabayashi Atsushi (Guin Saga )


(Original post by Summary:)
Second anime adaptation of the Garo series. Unlike the first Garo anime, this series will be a jidaigeki (period drama) set in the Heian period. It will have a female protagonist.
Judging by the summary, this isn't a direct sequel to the earlier Garo anime (which I didn't watch). Might give it a look if it requires no existing knowledge of the franchise.
Gochuumon wa Usagi Desu ka??
Genre: Comedy, Slice of Life
Animation Studio: White Fox
Japanese Airdate: Oct 10, 2015
Seiyuu: Uchida Maaya, Minase Inori, Taneda Risa
Director: Hashimoto Hiroyuki (Gochuumon wa Usagi Desu ka? )


(Original post by Summary:)
Second season of Gochuumon wa Usagi Desu ka?
Harmless, slow-paced moe comedy, but I didn't watch the first series, so won't be watching this either.
Haikyuu!! 2
Genre: Comedy, Drama, Sports
Animation Studio: Production I.G
Japanese Airdate: Oct 4, 2015
Seiyuu: Murase Ayumu, Ishikawa Kaito, Okamoto Nobuhiko
Director: Mitsunaka Susumu (Cuticle Tantei Inaba, Haikyuu!! )
(Original post by Summary:)
Second season of the anime adaptation of Haruichi Furudate's shounen sports manga.
Finally, a sequel I care about! The first series was overshadowed slightly by cycling anime Yowamushi Pedal for me, but it was enjoyable enough, and the characters' facial expressions were priceless.
Heavy Object
Genre: Action, Mecha, Sci-Fi
Animation Studio: J.C. Staff
Japanese Airdate: Oct 3, 2015
Seiyuu: Ishikawa Kaito, Suzuki Eri, Hanae Natsuki
Director: Watanabe Takashi (Shakugan no Shana, Hidan no Aria)


(Original post by Summary:)
Objects are powerful, massive weapons that change the course of warfare and are manned by Elite Object pilots. An odd Elite girl named Milinda meets Quenser, a student who aims to become a Object mechanic, with the soldier-in-training Heivia on a snowy battlefield.
I've become wary of J.C. Staff over the years, but based on the promo art, synopsis and trailer, this doesn't look too bad. Hardly jumps out at me either, mind.
Hidan no Aria AA
Genre: Action, Adventure, Comedy
Animation Studio: Dogakobo
Japanese Airdate: Oct 6, 2015
Seiyuu: Kugimiya Rie, Sakura Ayane, Ise Mariya
Director: Kawabata Takashi


(Original post by Summary:)
Akari Mamiya is a freshman and E-rank student who looks up to her upperclassman, the S-ranked Aria H. Kanzaki. They both attend Tokyo Butei High School, which employs the "Amica" system, allowing an underclassman to train alongside an upperclassman. Akari is determined to be paired with Aria.
...and here's one of the series that put me off J.C. Staff, though the sequel is in new hands. Nope, not watching this one.
Hokuto no Ken: Ichigo Aji
Genre: Comedy, Seinen
Japanese Airdate: Oct 7, 2015
Seiyuu: Konishi Katsuyuki, Ginga Banjou, Suwabe Junichi


(Original post by Summary:)
The spinoff centers on a fun version of the Holy Emperor Souther as he tries to find ways to become friends with Kenshirou, demonstrates his party techniques, and sometimes plays with the Gosha Sei.
As fun as this sounds, you'd probably need to have some existing knowledge of Hokuto no Ken and its characters to fully appreciate it, which I currently don't have. Something I'll have to fix eventually...
JK-Meshi!
Genre: Comedy, Food
Animation Studio: Kyotoma
Japanese Airdate: Oct 6, 2015
Seiyuu: Hara Natsuko, Fujita Nao, Tokui Sora
Director: Huzituka
(Original post by Summary:)
Absolutely no information out there for this yet, aside from this image and a set airing date. Character designs have a Flash animation look to them, so this may be a short.
[EDIT] Now confirmed to be a short, but no harm in leaving it here anyway.
K Return of Kings
Genre: Action, Super Power, Supernatural
Animation Studio: GoHands
Japanese Airdate: Oct 3, 2015
Seiyuu: Namikawa Daisuke, Komatsu Mikako, Ono Daisuke
Director: Suzuki Shingo (Coppelion, K)


(Original post by Summary:)
In modern Japan there are seven "Kings" who share power with their fellow clansmen. The Blue King Reishi Munakata, the leader of the Blue Clan "Scepter 4," held great responsibilities on his back. The tower that Gold King Daikaku Kokujōji supervised called the "Dresden Slate" was still on his mind, and he felt a great burden by killing the previous Red King, Mikoto Suoh. On the other hand, the former Red Clan "HOMRA" clansman Anna Kushina experienced the attacks from the Green Clan "Jungle" and awakened as the next Red King. By doing this, she bound her comrades through a strong bond once again. Finally, White Clan members Neko and Kuroh believe that the White King Yashiro is still alive, and seek his whereabouts. However, it was not just them searching for the White King. With "Jungle" once again jumping back into action, the fates of the various Kings are brought together.
I don't remember a huge amount about K, aside from rival gangs fighting and VERY nice animation. I've also not seen the movie either... hopefully I'll find time to do so this month, if not then Return of Kings will have to wait.
Kidou Senshi Gundam: Tekketsu no Orphans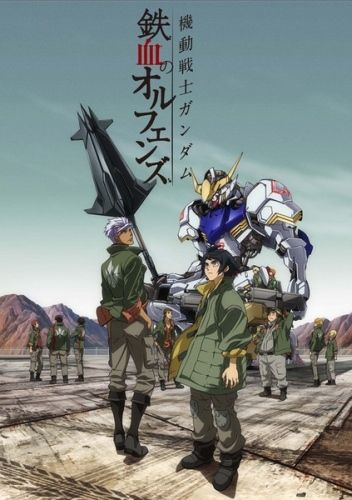 Genre: Action, Drama, Mecha
Animation Studio: Sunrise
Japanese Airdate: Oct 4, 2015
Seiyuu: Kawanishi Kengo, Hosoya Yoshimasa, Terasaki Yuka
Director: Nagai Tatsuyuki (Toradora!, Ano Natsu de Matteru)


(Original post by Summary:)
300 years after the Calamity War's end.

The powers which ruled the Earth Sphere have been overthrown, giving way to new rulers of a new world, exhausted of battle. Meanwhile, far away on Mars, the sparks which threaten to ignite a new war have been struck...

Our protagonist Mikazuki Augus, a member of the private security firm Chryse Guard Security (CGS), takes on a mission as bodyguard of Kudelia Aina Bernstein, a young girl who agitates for Chryse's independence from Earth. However, when the elite Gjallarhorn unit, charged with suppressing revolutionaries, raids CGS, its higher-ups deliberately use Mikazuki and the other boys as a decoy to cover their own retreat. Orga Itsuka, leader of the boys' squad, takes this abandonment by the adults as motivation to launch a full-fledged coup d'état. With orders from Orga to hold back Gjallarhorn, Mikazuki sorties in Calamity War-era scrap that CGS had been using as a generator—the Gundam Barbatos...
Every time a new Gundam series airs, I plan on picking it up, only to find myself completely underwhelmed by the first episode. I really hope that won't be the case this time!
Kindaichi Shounen no Jikenbo R 2
Genre: Mystery, Shounen
Animation Studio: Toei Animation
Japanese Airdate: Oct 3, 2015
Seiyuu: Matsuno Taiki, Nakagawa Akiko, Kosugi Juurouta
Director: Ikeda Youko (Kaidan Restaurant, Negibouzu no Asatarou)
(Original post by Summary:)
Hajime Kindaichi once again becomes embroiled in solving baffling cases and deciphering puzzling crimes that would confound the most seasoned of detectives. Whether it's a gruesome murder and shady circumstances surrounding the Japanese board game Go; a perplexing and macabre case involving a mysterious character, "Rosenkreutz," and blue roses; or blood curdling crimes associated with an urban legend at a winter ski resort – Hajime is out to crack them all!
The synopsis interests me, as I do enjoy mystery series when done well... haven't seen any of the earlier series, though, so I'll give it a miss.
Lance N' Masques
Genre: Fantasy
Animation Studio: Studio Gokumi
Japanese Airdate: Oct 2, 2015
Seiyuu: Mimori Suzuko, Uchiyama Yumi, Tanaka Aimi
Director: Ishiguro Kyouhei (Shigatsu wa Kimi no Uso)


(Original post by Summary:)
Yōtarō Hanafusa is a young man who is part of the last remaining order of knights in the 21st century, "Knights of the World." As he fights as the mysterious Knight Lancer, he must hide his identity behind a mask. One day he meets a girl named Makio Kidōin, and when finding that she lives alone, decides to watch over her.
I'm certainly not expecting a serious fantasy plotline from this series, those weapons are ridiculous! Still worth a look, I suppose.
Lupin III - L'avventura Italiana
Genre: Action, Adventure, Comedy
Animation Studio: TMS Entertainment
Japanese Airdate: Oct 2, 2015
Seiyuu: Kurita Kan`ichi, Kobayashi Kiyoshi, Sawashiro Miyuki
Director: Yano Yuuichirou (Moyashimon, Mujin Wakusei Survive)


(Original post by Summary:)
New anime adaptation of Monkey Punch's popular manga series. It will be the first full-fledged Lupin III television anime series to star the legendary thief character since 1984-85's Lupin III: Part III ended three decades ago. The story of the new series will take place in Italy and San Marino and it features a blue-jacketed Lupin in his 20s
A bit later than expected, but should prove worth the wait! Though I've not watched every Lupin series and TV special that aired before this, their fairly episodic so I doubt that'll matter.
Noragami Aragoto
Genre: Action, Adventure, Supernatural
Animation Studio: Bones
Japanese Airdate: Oct 3, 2015
Seiyuu: Kamiya Hiroshi, Uchida Maaya, Kaji Yuuki
Director: Tamura Koutarou (Noragami)


(Original post by Summary:)
Season two of Noragami which will adapt the manga's Bishamon arc.
The first series of Noragami was highly enjoyable, loved the characters, and the great balance of action and comedy. Probably the series I'm most excited about at this point in the list.
One Punch Man
Genre: Action, Comedy, Parody
Animation Studio: Madhouse
Japanese Airdate: Oct 5, 2015
Seiyuu: Furukawa Makoto, Ishikawa Kaito, Yuuki Aoi
Director: Natsume Shingo (Space Dandy, Hori-san to Miyamura-kun)


(Original post by Summary:)
The manga revolves around the titular super hero who has trained so hard that his hair has fallen out, and who can overcome any enemy with one punch. However, because he is so strong, he has become bored and frustrated with winning all his battles so easily.
Here's a new series that also sounds like it could deliver on the fun character and action/comedy fronts! I've never been keen on unbeatably OP protagonists in serious shows, but the idea could certainly work as a comedy.