The coalition has been dropping these leaflets on ISIS positions around Manbij in Northern Syria.
Very rough translation below picture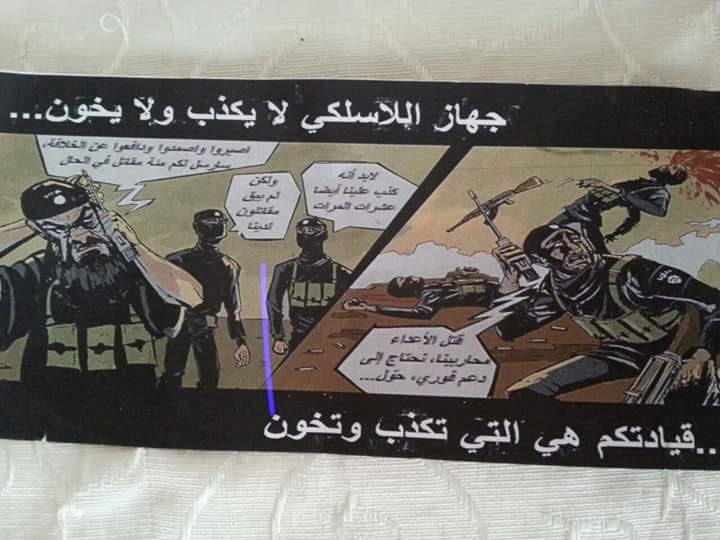 ISIS soldier: Please send reinforcements immediately, we are being overrun!

ISIS commander: Yes, we are sending 100 fighters immediately.

Guys next to commander: But we have no more men, he's told us that lie 100 times before
I find this quite interesting. The psychological warfare experts know that every psychological operation needs to contain elements of truth otherwise it doesn't have credibility with the target audience.
The NSA and Defense Intelligence Agency analysts who listen to hour upon hour of ISIS radio transmissions (pretty much everything on the electromagnetic spectrum that emanates from Iraq and Syria is hoovered up for analysis) likely know there is serious dissension in ISIS ranks, that trust is starting to break down between the fighters and the leadership.
And that's when you know you're winning the war; as long as the common fighter/soldier perceives that they will be safer remaining part of the group and following orders from officers, they stay cohesive. It's when that perception breaks down and they no longer trust that they have a greater chance of staying alive by following orders that cohesion begins to disappear.
Re that point, I encourage anyone with an interest in these issues to check out this documentary. It's one episode of a six-part series by a journalist called Gwynne Dyer called War. This episode is called The Profession of Arms; Dyer really is exceptionally insightful about stripping away the layers of abstraction and explaining the fundamentals of warfare, group mentality on the battlefield and in the command structure and about the military as a professional caste. One commenter (seemingly a veteran) calls Dyer a modern Clausewitz but I think Dyer's more interesting