In the name of Allah , the beneficent, the merciful.
All praise belongs to Allah. There is none worthy or worship save Allah. To him is our final return, and our ultimate goal. May Allah (azwj) send his blessing on the seal of the prophets, the greatest man to have ever walked this earth, Muhammed s.a.w, and his Ahlulbayt a.s., who are the second of the two weighty things, and those who preserved his sunnah.
Shia Islam , due to a plethora of factors, from political to secterian, has been distorted in many circles, and there are absolutely profound misconceptions about it. As a shia muslim, i believe it is the truth, the path closest to the Sunnah of Muhammed s.a.w, the path most firm in its understanding on Tawheed. Having said that, i have love for my brothers in the ahlus-sunnah. I have family members who are sunni's, and i have love for them. Unity between shia's and sunni's is essential, and the need to foster harmony, mercy, and tolerance between the groups.
In order to give people a very brief, and basic introduction to Shia Islam [so the muslim and non-muslim can appreciate]:
1
.
Shia muslims[and sunni Muslims] believe in One God. The principles of Tawheed is the first and most important principle in shia Islam. Shirk and Polytheism is considered the most abhorrent of sins.
2. Shia muslims believe that Muhammed s.a.w, the greatest creation, the greatest man to walk this earth, was the last and final prophet of God, the seal. We believe his Sunnah, and his example is what we absolutely strive to follow.
We believe Rasullah s.a.w clearly stated, in both sunni and shia books, that in order to follow his Sunnah, one must hold onto the Quran AND the Ahlulbayt:
It is narrated in Sahih Muslim as well as many other sources that:
Someday (after his last pilgrimage) the Messenger of Allah (S) stood to give us a speech beside a pond which is known as Khum (Ghadir Khum) which is located between Mecca and Medina. Then he praised Allah and reminded Him, and then said: "O' people! Behold! It seems the time approached when I shall be called away (by Allah) and I shall answer that call. Behold! I am leaving for you two precious things. First of them is the book of Allah in which there is light and guidance...The other one is my Ahlul-Bayt. I remind you in the name of Allah about my Ahlul-Bayt. I remind you in the name of Allah about my Ahlul-Bayt. I remind you in the name of Allah about my Ahlul-Bayt. (three times)."• Sahih Muslim, Chapter of the virtues of the companions, section of the virtues of 'Ali, 1980 Edition Pub. in Saudi Arabia, Arabic version, v 4, p1873, Tradition #36.
3. Shia muslims believe that the Quran is the last and final revelation of God. The Quran we have in content is the preserved Quran with no alteration in its verses and the Quran has not undergone corruption.
Any ahadith in shia and sunni works which give that impression are often weak, or wrongly interpreted. And this is the Ijma of shia scholars.
4.Shia muslims respect many companions of Muhammed s.a.w. However, we view the companions of Muhammed s.a.w in the same way and light as the Quran views them.
There are those loyal, those of varying levels of belief, those who do not possess true belief in their hearts, as some examples. We do not regard the sahaba in the view that they were all good and righteous. Rather, we look at them as any large body and group of human beings. Similar to all the other Prophets of God, From Jesus a.s to Moses a.s, in any large body or group of people, there are those who are loyal, those who have faith in varying levels, those who change, those who turn back, those who are not sincere.
We revere the matyrs of the Holy Wars, such as the matyr's of Badr r.a, among the others. We revere many notable companions - four of whom are in the top ten narrators of sunni hadith books. They are, Jabir ibn Abdullah r.a, Abu said al khudri r.a, Ibn Abbas r.a, Abdullah ibn Mas'ud r.a. vWe revere many more notable companions.
5. The vast majorty of shia's do not engage in acts of taking knives and swords and cutting themselves. Many shia ulema, past and present, from the likes of Imam Khomeini, to Imam Khamanei have been against it. Those who allow it do so on conditions. Join me in prayer that we see this relatively recent cultural infiltration, as it is done, dissapears and is eradicated. [CLICK ON SPOILER FOR ABSOLUTE CONDEMNATION OF CUTTING FROM ULEMA]
Spoiler:

Show
Grand Ayatullah Khamenei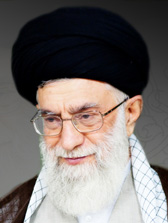 Ayatullah Khamenei, in his position as the Hakim Al-Shari'i has given a Hukm forbidding blood flagellation. A hukm is binding on all Muslims, unlike a fatwa.
Question 1450:
Is hitting oneself with swords halal if it is done in secret? Or is your fatwa in this regard universal?
Answer:
In addition to the fact that it is not held in the common view as manifestations of mourning and grief and it has no precedent at the lifetime of the Imams (a.s.) and even after that and we have not received any tradition quoted from the Infallibles (a.s.) about any support for this act, be it privately or publicly, this practice would, at the present time, give others a bad image of our school of thought. Therefore, there is no way that it can be considered permissible.
Question 1449:
In commemorating the martyrdom of Imam Husayn (a.s.) on the tenth of Muharram, some people hit themselves with a machete, or walk bare-footed on fire. Such actions defame Shi'ism and put it in a bad light, if not undermine it. They cause bodily and spiritual harms on these doing it as well. What is your opinion in this matter?
Answer:
Any practice that causes bodily harm, or leads to defaming the faith, is haram. Accordingly, the believers have to steer clear of it.
There is no doubt that many of these practices besmirch the image of Ahlul Bayt's (a.s.) School of Thought which is the worst damage and loss.
Ayatullah Mutahhari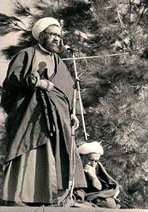 "Blood matam in its present form does not have a rational or religious basis. It is a clear instance of deviation. At least, in the present day it causes Shi'ism to be questioned. Activities that do not have any relation to the goals of Imam Husayn (a) are razors, blades and locks. Striking the head with a blade is the same. This is a mistake. Some people take blades and strike their heads making blood flow – for what? This action is not mourning."
Howzah va Ruhaniyat, v.3
In his book "Al Malahama Al-Husainiya", Ayatullah Mutahhari adopts Ayatullah Muhsin Al-Amin's opnion.
Grand Ayatullah Khomeini
"In his name, the Most High.
Do not perform blood matam or the likes
in the present state. If it does not include forbidden actions or defamation of the religion than there is no problem.
Grand Ayatullah Muhsin Al-Amin Al-Amuli
Ayatullah Muhsin Al-Amin (~1868-1952),
was one of the greatest scholars of his time
. He is known for his biographical encyclopaedia, Ayan Al-Shi'ah (62 volumes) and for his very strong opposition to blood shedding rituals. He is known to have boycotted meetings where they were performed.He wrote the book "Al-Majalis Al-Saniya" (1928) in which he said:
"And what some people do injuring themselves with swords and hitting themselves in a way that harms them is from the encouragement of Shaytan"
Grand Ayatullah Abul Hassan EsfahaniAyatullah Esfahani (1860–1946) was the highest ranking Shia jurist and the sole Marja of his time.
He openly supported the stance of Ayatullah Muhsin Al-Amin on this issue.
"The usage of swords, chains, drums, horns and the likes today, which have become common in mourning ceremonies on Ashura, is definitely forbidden and against religious doctrine."
Dayrah al-Ma"arif Tashayu', v.2, p.531; A'yan al-Shia, v.10, p.378; Professor Hassan Shabir, Tarikh Iraq Mu'asir, v.2, p.340
Istifta'at Imam, v.3, miscellaneous questions, question 37.
.