Over the weekend, Prime Minister Stefan Lofven led a Swedish delegation to Iran. Lofven was received warmly by the Islamic Republic's political elite — Supreme Leader Ali Khamenei tweeted positively about his meeting with Lofven, adding that Sweden had a "good reputation" in Iran — and
the two countries agreed upon a number of trade-related deals
.
Back home, however, coverage of the Swedish government delegation's trip to Tehran has focused on something else. As Sweden's media noted Monday, a number of female officials who joined the trip, including Trade Minister Ann Linde, chose to wear Islamic headscarves while in Iran.
According to Expressen newspaper, there were 11 women on the trip out of 15 total in the Swedish delegation. The women were photographed wearing headscarves "almost all of the time" they were in Iran, with the exception of a number of events that took place at the Swedish Embassy.
By law, women are required to cover their hair and wear loose-fitting clothes when they appear in public in Iran, a country governed by a conservative Islamic elite. Many choose to wear loose-fitting hijabs, like the one worn by Linde in the picture above.
These rules require international visitors to dress modestly even if they are only in the country for a short time.
Lofven's Swedish government describes itself as a "feminist government," and
it has spoken of the need for a "feminist" foreign policy
. Hillel Neuer, executive director of U.N. Watch, a human rights group and frequent critic of Iran, noted this apparent contradiction in a tweet shared Sunday night.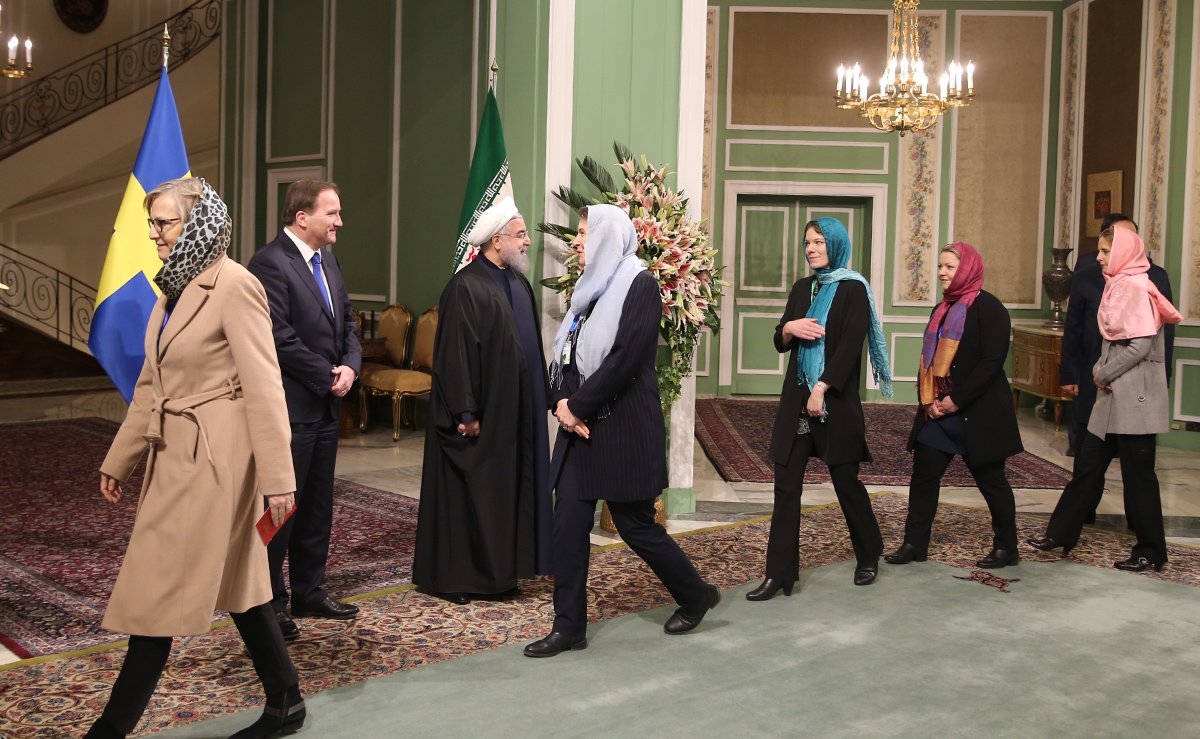 "Walk of shame: Women of Sweden's "first feminist government in the world" don hijab as they walk past Iran's Rouhani"
Masih Alinejad, a journalist and activist who started a Facebook page that invited Iranian women to share photographs of themselves without a hijab, also criticized the Swedish delegation.
"By actually complying with the directives of the Islamic Republic, Western women legitimize the compulsory hijab law," Alinejad wrote on Facebook. "This is a discriminatory law and it's not an internal matter when the Islamic Republic forces all non-Iranian women to wear hijab as well."
https://www.washingtonpost.com/news/...=.ec110fafd622
The "Feminist" government published a statement regarding its visit in Iran, but failed to mention any human rights abuse, or women's rights, only business ties.
http://www.regeringen.se/pressmeddel...-besoker-iran/