Car crash interview by Diane Abbott with Nick Ferrari
Watch
Go to first unread
i heard this on the wireless as i was driving this morning... really made me laugh out loud. comedy gold. Gordon Brown would have sold it for a pittance.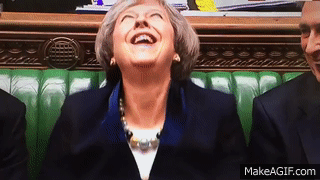 I heard an abbreviated replay on radio 4.

This was excrutiatingly embarrassing - even Alan Partridge could not dig a bigger hole.

Abbott fell out of the stupid- tree, hit all the branches on the way down, landed in some dog excrement and then got gored by a bull in the same field.

Corbyn defended her saying "she is a 'thoroughbred' among also ran's." May replied, "she's not a horse, she's a donkey."
Oh dear. It's not quite bigot-gate, but that's a pretty major gaffe all the same.
To be honest, Abbott is one of those pests that just won't disappear. She is an utter embarrassment all too often. As to why Corbyn keeps her around, they do have history.... I wonder if she has dirt on people :P
Jeremy would never part with Abbott, she always has Jeremy behind her....
It's just the sheer length of it as she flounders from bad mistake to worse, to worse... it just goes on and on.
It must have felt like eternity to her.
Jeremy would replace her, but there isn't anyone available to replace her with.
I have made a separate topic about it attempting to calculate the cost of it she is over £250,000,000 off on her calculation
Go to first unread
Back
to top