Whatever articles I come across on the web I seem to find tales of past Labour supporters who simply can no longer support the current party. Whether it's the split between Blairites or Bennites, the hatred of their "leader" or just the unpalatable policies it's all rather academic.
From a March article in The Telegraph:
http://www.telegraph.co.uk/news/2017...subscriptions/
"The Labour party have lost
10,850 members
over the last four weeks, official party documents have revealed.
Thousands of members have chosen not to renew their subscription to the party and hundreds have resigned- citing Labour's approach to Brexit as the main reason.
The latest figures come after leaked data revealed Labour has lost nearly 26,000 members since last summer"
A poll by YouGov asked what was causing the mass exodus of past Labour supporters. It results were thus: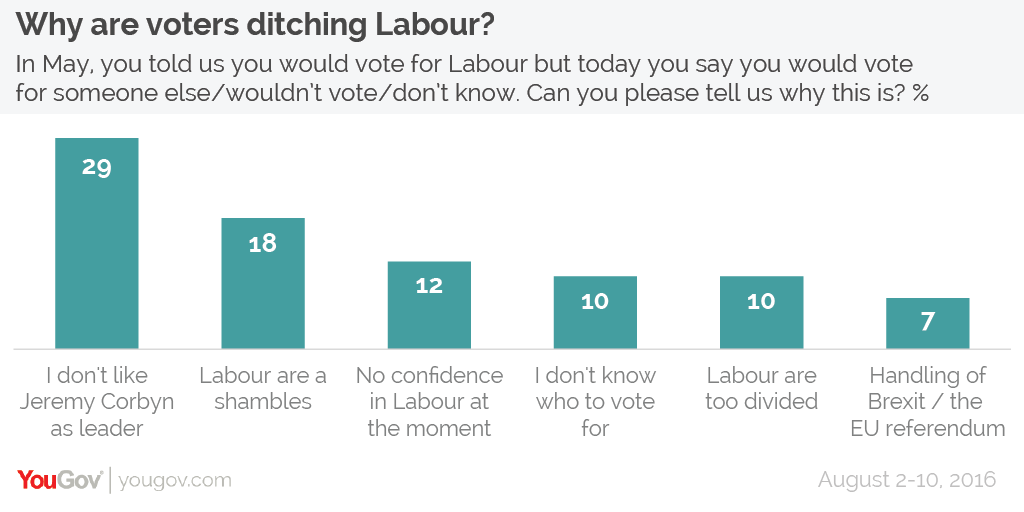 No surprises there TBH !
This article in the Guardian said "
Labour faces catastrophic loss of working-class support
"
https://www.theguardian.com/politics...-class-support
"Bryan Smith is a Labour councillor in Halifax and worries that, nationally, his party is an incoherent, ineffective opposition. "They're mumbling, basically," he said. "I don't think Labour are in the good books with anyone at the moment. I think most people are disappointed with the leadership. Lots of them turn around and say they won't vote Labour unless there's a change of leadership. Unfortunately, people aren't listening at the top."
"Michael Ward, a former pipe fitter, 63, proves him right. He is a lifelong Labour supporter but says there is no way he could vote for a party with Corbyn as leader. "I'd give it a miss. I wouldn't vote at all. Until Labour sort themselves out – and I've always been a devoted Labour person – they'll never get in power again. Not the way they are at the moment."
"There are also signs of party supporters looking for the first time at previously unthinkable options. Margaret Schofield, 67, who worked as a weaver for 47 years, used to vote Labour and more recently has backed Ukip. Now she is thinking about Theresa May. "Labour just aren't for the working class any more. I wouldn't trust Corbyn at all," she says. "I wish Theresa May would get on with Brexit. I would vote for her, and will see how she gets on."