(Original post by Aeolus)
This is why basing your idea of Marxism on a google search is a bad idea.
Not google search, a direct quote from
The Communist Manifesto
, which I have read in its entirety. I really don't see any way you can worm out of this: he explicitly stated what policies he saw as progress. Not an end goal, but as better than the free market. And they turned out to be far far worse than the free market.
This doesn't address the problem at all. Once again you revert to faith in the continuing establishment of 'new industry' that the rest of the population can be employed in when the demand for labour in existing industry shrinks or moves to cheaper enviroments.
Not faith, but economic science. The theory goes that labour, as a useful commodity, will always be demanded at some or other price. There will be full voluntary employment (minus friction and the effects of govt policies) when the price of labour is at the market rate. Increasing productivity increases the value of labour and pushes up the market rate. That is, it pushes up the wages
at which there is full employment
.
Does the theory match the evidence? In terms of productivity increasing wages, yes: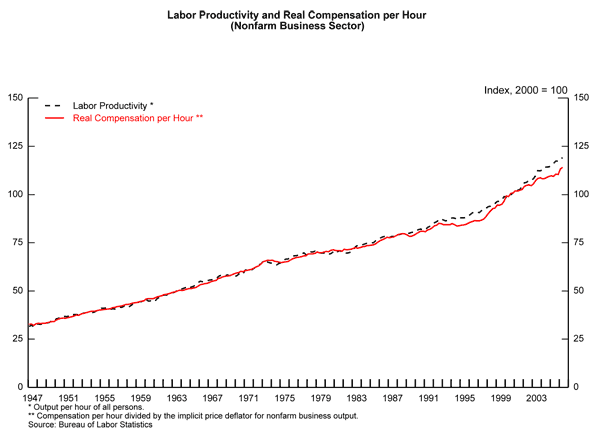 And in terms of unemployment staying relatively constant, again yes:
While there are fluctuations due to transient recessions, and to changing government policies, there is no long term upward trend correlating to increasing productivity.
You really don't have an argument here, and you'd know that if you studied some economics from the right century.
This generic argument is so utterly boring. For you to blanket socialist ideology...
Whatever was intended, that is what happened. I wouldn't tar the few socialists who genuinely seem to be in favour of freedom with that brush (eg. mutualists), but the vast majority of socialists also want increased state power.
With your reasoning I would be justified in describing a laissez faire capitalist utopia as Pinochet's Chile or the more authoritarian aspects of Thatchers administration. Like I say above, if this is boring, generic route you want to take the discussion then I am not interested.
So not interested, you just had to make the argument anyway. Well, I'm not going to agree to some sort of argument trade here, because this is simply not threatening to my position at all. I can quite happily accept that Pinochet and Thatcher had better economic policies than their competition, without endorsing non-libertarian things that they did. For the socialist, though, the harm was caused by the exact policies they advocate.
If you had actually read my post you would note with humility that I mention the square mile of sea water, now correct me if I am wrong (I am no science student) but isn't that classed as energy? And no I do not mean the LHC but the unwarranted condescension is noted and revealing. I am talking of course about reactors such as the JET and the ITER. Strange that a physics student doesn't immediately think of these very high profile project when the hear the words fusion and reactor.
ITER isn't part of CERN. You didn't use the word fusion. For just interest's sake, there isn't much reason to think that fusion will be spectacularly cheap (or even cheaper than present sources). But idk what it has to do with anything, the market doesn't have a problem charging little for cheap stuff.
Yes but unfortunately for you and your short sighted ideology land and water are both finite resources and your argument is entirely dependant on individual situation. You reduce the available amount of water or land and the price skyrockets ensuring that these things become available only for the rich. Thus your talk about 'freedom' becomes mere waffle. Liberty maybe, but freedom in your society is only for the rich.
If the maximum possible production of water became less than the minimum amount needed to sustain all humans alive today, the problem is independent of what system is used to distribute it. While in practice a free market in water makes it far less likely that such a shortage will occur - just like free markets have eliminated famines while socialist systems produce them.
Anyway, what does this have to do with anything? It's possible some hypothetical society might exist in which land value is a huge fraction of the economy, but it isn't the one we live in, or one we are likely to live in.