This month TSR is celebrating
Pride
to see how much you know about British LGBT+ history click
HERE
for a quiz
Want to know more about the LGBT movement across the decades? Click the spoilers below! (dont click them before you have done the quiz

)
LGBT Across the Decades:
1960s:
Spoiler:

Show
-Homosexuality was partially decriminalised in Britain in 1967, this created a quiet sexual revolution as for the first time gay men had the chance to live more openly although homosexual relations were still forbidden in 'public' (this extended to cover areas such as communal flats and hotels), it had to be behind a locked door and you both had to be 21.
-The new law only applied to england and wales, homosexuality was decriminalised in scotland in 1980 and northern ireland in 1982. The pre-1967 anti-homosexuality laws had never included lesbians as lesbians were practically invisible.
-'Jeremy' a magazine for gay men was launched in 1969 with the term 'gay power' on the front cover, this was the first magazine of its kind. Newsagents wouldn't stock Jeremy, it was subscription only
-In the late 60s 'The Well of Loneliness' which had been published in 1928 but was banned for 40 years was becoming widely available. This book had been so controversial as it was about a lesbian relationship. The book was never banned in France where it was written.
-Pubs frequented by gay men were still often raided by the police. Men would often go to public toilets 'cottaging' to have sex as many lived in council houses and flats so having sex at home would still be illegal. Police would often raid these 'cottages' and arrest those involved. The names of those involved would be published in the paper.
1970s
Spoiler:

Show
-Gay people still treated as targets for arrests, jokes, violence and discrimination. A sense of anger was brewing amongst the LGBT community.
The Gay Liberation Front
was set up to fight for homosexual rights.
-In 1971 a Christian Rally was set up to oppose what they saw as 'the moral degeneration of Britain'. The GLF organised a demonstration at this rally which included can can-ing nuns
-The GLF movement began to move up north along with 1970s feminism and included stunts such as painting towns with 'lesbians are everywhere'
-In 1972 the First British Gay Pride Rally was held in London with 1000 people marching from Trafalgar Square to Hyde Park.
-Middle of the 1970s people were beginning to understand relations between the same sex, however transgenderism was still not understood at all. After company medicals transsexual individuals were often sacked from the workplace.
-Attitudes to LGBT were shifting, they were no longer evil and dangerous but objects of pity that needed 'curing' with science.
-Until 1973 homosexuality was officially categorised as a mental illness. Chemical injections, electric shocks and brain surgery were all available on the NHS to 'cure' homosexual inclinations
-This was increasingly crtiticised by the end of the 1970s
1980s:
Spoiler:

Show
-Many LGBT+ people were heading for the cities at this point
-In 1980 The Self Help Association for Transsexuals (SHAFT) was formed as an information collecting and disseminating body for trans-people. The association later became known as 'Gender Dysphoria Trust International' (GDTI). The first black lesbian group was set up in the same year
-By 1982 H.E.Ds lesbian nightclub and Heaven a gay disco club were set up in London. Heaven hosted the first gay beauty contest
-Across the country the AIDs epidemic started. The government launched a public information campaign with leaflets dropped through doors and the infamous gravestone advert. Although anyone could get AIDs the homosexual male community was particularly targeted and ridiculed. An AIDs memorial quilt was created from fabric panels donated from the partners of AIDs victims. AIDs came barely 20 years after the optimism the LGBT community had shared in 1967
-In 1987 The first UK specialist HIV ward was opened by Diana, Princess of Wales; at the opening she made a point of not wearing protective gloves or a mask when she shook hands with the patients.
-In 1988 the Thatcher government created Section 28 of the Local Government Act, making it illegal for local authorities to support anything that might promote homosexual relationships as a viable alternative to heterosexual 'family life'. This included discussing homosexuality in schools. It wasn't until 2003 that this was overturned.
-In 1989 as retaliation the group Stonewall was set up to oppose Section 28 and other barrier to equality.
1990s:
Spoiler:

Show
-Freddie Mercury and Frankie Goes to Hollywood's Holly Johnson announce they were HIV positive in this decade
-In 1994 the age of consent for gay men was lowered to 18. The lesbian age of consent was never set
-In 1996 Gay partners were given equal immigration rights
-In 1997 Angela Eagle, Labour MP for Wallasey becomes the first MP to come out voluntarily as a lesbian.
-In 1998 Baron Waheed Alli, Labour Party life peer, becomes the first openly-gay member of the House of Lords and one of a few openly gay Muslims.
-In 1999 the Admiral Duncan, a gay pub in Soho was bombed by former British National Party member David Copeland, killing three people and wounding at least 70
21st Century:
Spoiler:

Show
-Before 2000, gay and lesbian people could not serve in the Armed Forces. They would have to keep their sexual orientation secret or they could be fired. This was lifted in 2000
-In 2001 the age of consent for gay sex was lowered to 16, which brought it in line with the heterosexual age of consent
-In 2002 equal rights are granted to same-sex couples applying for adoption. Before this neither same-sex couples nor unmarried straight couples could adopt or foster children.
-In 2003 Section 28 was repealed which meant that schools were finally able to support their lesbian, gay and bi students.
-The 2003 Employment Equality Regulations made it illegal to discriminate against lesbians, gays or bisexuals at work.
-The Civil Partnership Act was passed by the Labour Government in 2004, giving same-sex couples the same rights and responsibilities as married heterosexual couples
-The Gender Recognition Act was passed in 2004 The Act which gave transsexual people legal recognition as members of the sex appropriate to their gender (male or female) allowing them to acquire a new birth certificate, affording them full recognition of their acquired sex in law for all purposes, including marriage
-Until 2005 if a person was attacked for being gay or because the attacker thought they were gay then it was treated like any other crime. The Criminal Justice Act changed that so that these were classed as 'hate crimes' and were treated more seriously.
-Before 2007 any service provider could discriminate against an LGBT person who bought something from them or used their service. For example, a hotel owner could refuse to allow a gay couple to stay in their hotel, or a local authority could refuse to house a same-sex couple together. Today people can't be refused goods or services because they're lesbian, gay, bi or trans.
-There used to be lots of different laws protecting LGBT people from discrimination. The Equality Act 2010 made things simpler by bringing all the protections for LGBT people into one law. It also made sure LGBT people were entitled to the same legal protections given to other groups of people who might face discrimination. In addition to this, public service providers like schools and hospitals have to show how their service is accessible to and supportive of LGBT people.
-Although same-sex couples could enter into Civil Partnerships before 2013, they weren't allowed to get married. The Marriage Act 2013 gave same-sex couples the opportunity to get married just like any other couple. Same-sex couples already in a Civil Partnership can now convert this to a marriage if they want to.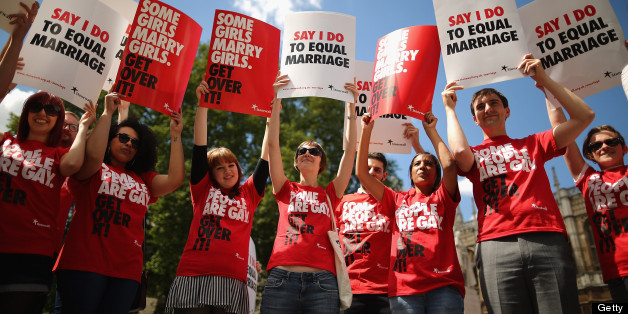 Influential Figures in LGBT+ history:
Spoiler:

Show


Karl Heinrich Ulrichs:
-A civil servant in Germany until he was forced to resign in 1854 on account of his homosexuality.
-Became an activist and published 12 volumes of work about sexuality, including what's believed to be the first theory about homosexuality. He argued that it is an, 'inborn condition' not a learned corruption, as was the prevailing wisdom at the time.
-Thought to have been the first gay person to publicly speak out for homosexual rights. In 1867, he urged the German government to repeal anti-homosexuality laws, which firmly established himself as the pioneer of the gay rights movement.

Barbara Gittings:
-Gittings headed up the New York branch of the Daughters of Bilitis (DOB) in the 1950s - the USA's first lesbian civil rights organisation.
-In the 1970s, she was a prominent member of the American Psychiatric Association's fight to get homosexuality removed from the list of psychiatric disorders.

Harvey Milk:
-Born in New York in 1930, and became a prominent gay rights activist.
-Found his voice in gay rights activism after moving to San Francisco in 1972.
-In 1977, he became the first openly gay person elected to public office, winning a seat on the San Francisco City Council Board. He had previously run for the seat twice, unsuccessfully.
-Was shot and killed in 1978 by Dan White, a fellow City Council board member.

Magnus Hirschfeld:
-He established the world's first gender identity clinic, whose clients included Einar Wegener who transitioned to become Lili Elbe - one of the first people to undergo gender reassignment surgery)
-Began researching sexuality after moving to Berlin in 1896, where he lived as an openly gay man, and campaigned for gay rights.

Audre Lorde:
-Described herself as a 'black lesbian mother warrior poet'
-Her work covered everything from civil rights (The Black Unicorn) and sexuality, to her own battle with breast cancer
-In 2001, the Audre Lorde Award was launched to honour works of lesbian poetry

Bayard Rustin:
-Close advisor to Martin Luther King, and an openly gay activist
-Was a key organiser of the 1963 March on Washington for Jobs and Freedom, where Martin Luther King gave his historic 'I have a dream' speech
-In 1948, Rustin served time in prison for refusing to go to war. His prison records describe him as an "admitted homosexual"

Christine Jorgensen:
-Born George Jorgensen in the Bronx, New York, Jorgensen underwent a year and a half of hormone treatment and gender re-assignment surgery in Denmark in 1952
-Returning to New York, Jorgensen was poured over by the media and triggered national discussions about gender identity
-In 1952, she was crowned Woman of the Year by the Scandinavian Society in New York


After all that i hope you all agree that pride is a great celebration of how far we have come in terms of LGBT rights and recognition
*this isnt a debate thread
it's a celebration thread, if you want to debate kindly go to the
society forum