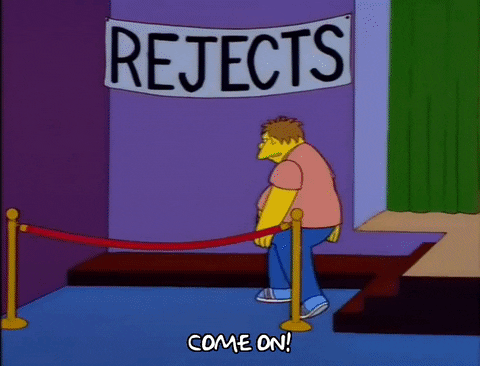 Haven't seen this before, so I thought it was be a good idea to just...you know...be prepared
Good luck to each and every single one of us applying but unfortunately, even though I have no doubt that all medical applicants are extremely diligent and intelligent, not everyone will be able to get in. People have already started getting confirmations for interviews so the wheel has started turning and it's only going to get tougher from here.
Though it might seem like it, it's NOT the end of the world and you are not any less worse for not getting in. Here's some useful information I found on TSR that I think needs more exposure, with updated links AND CORRECTED SPELLING MISTAKES
I'll be adding more information later and please use this thread as a positive outlook to different careers/perfecting applications if you wish to try again in the next application cycle. Tell us about yourself/what unis you've applied to etc Also tell me if any information is outdated!!
You have just found out that you haven't got into medical school. This may be because you have been turned down from all four of your applications or it may be because you have missed your grades on results day. This can feel like the end of the world but it doesn't have to be. Here are some options that you have should you decide that medicine is still what you want to do.
First of all, ask yourself if Medicine is a realistic career aim. Putting yourself through retakes and reapplying may still result in the same 'no offers' or 'no place' scenario. Is this the point to think about a course/career in 'something like Medicine' instead? (
https://www.healthcareers.nhs.uk/exp...-roles-doctors
)
You haven't got any offers
Expand
Why not? Was it your grade predictions, your personal statement, or your interview performance? Contact each of the the medical schools that turned you down and see if you can get some feedback.
This might not always be possible but it is always worth asking. It also is worth asking them at the same time whether they will accept a
reapplication
from you as some medical schools won't if you have been turned down after interview.
Whatever the reason, what can you improve upon if you reapply next year?
During the summer holidays after your exams you could organise some extra work experience, volunteering work or paid work to improve your level of experience and/or understanding what medicine involves.
If your eventual grades are poor, you could think about retakes.
Are there Summer Schools or any other 'getting into Medicine' study days at your local Uni that you could do? What was 'wrong' with your Personal Statement? Reread it and do some thinking abut what how you might improve it. It might also be worth making use of the TSR personal statement checking forum which can be at (https://www.thestudentroom.co.uk/forumdisplay.php?f=134).
Could you reapply to different Universities without such high grade requirements?
Expand
With a known UKCAT score and known A level results, you can target your applications far more strategically to Universities you know are within your reach. You failed to make your grades If on results day you opened your results envelope to find that your results weren't what you had hoped they would be it can be a difficult time. You have to make some hard decisions about what you want to do now. The most important thing is that you realise that this isn't the end of the world and you do still have options which will get you into medical school or an alternative career.
Expand
Resitting your final year of A2 is the most obvious option for you.

But there are things that you should consider. Are you going to be able to get the grades that you need if you resit? This is a hard question to answer but if you have got BBC in your A2's are you going to be capable of getting AAA if you resit? If you have decided to resit the first thing that you should do is to find out which universities will consider you as a resit student and if so what are the grades that you are going to need to get.

There are medical schools out there who either don't consider resit students or who insist you get AAA. So make sure that you apply to universities whose conditions you make. It is also important that you do all you can to produce the best personal statement that you can.

Organise some extra work experience or activities if you can before you submit your personal statement. Make sure that you have it checked the personal statement checking forum on TSR.
Applying for another course
Expand
You may decide that resitting isn't the right option for you and you want to go and do another degree at university and then apply to medicine as a graduate. While this is a good option it is important to be aware that applying as a graduate is much more competitive that applying as an undergraduate. If you have decided that you want to apply as a graduate you now have to decide which course you would like to do as your first degree. While it can be tempting to apply to courses like Biomedical sciences this isn't always the best option as many people on these courses will be wanting to apply to medical school after graduation. It can be worth looking a courses like anatomy, pharmacology or physiology which are more loosely associated to medicine and so might make you stand out slightly more.

While doing your degree you should try and undertake as much work experience as you can as well as some long term volunteer work to strengthen your application.

It is also worth getting involved in extra curricular activities that interest you as this will come across in your personal statement. When you are in you penultimate year you need to consider which universities you want to apply to. While it can be tempting to apply to all graduate four year courses these are usually very competitive so it is worth also looking in to which undergraduate medical schools are graduate friendly.

It is probably worth applying to no more that two graduate courses. You will also need to start thinking about your personal statement as early as possible, make good use of any support that your university will give you with this and also make use of the TSR personal statement checking forum. While the graduate route does take longer you will still hopefully reach your goal of going to medical school. It is important that you choose a subject which you find interesting as this will increase your chances of both having three years that you enjoy and doing well in your degree. It is important that you aim for at least a 2.1 hopefully a first in your degree to give you the best chance of success.
Expand
There are courses at university where you can apply to transfer from the first year of a degree to the first or second year of medical school. This is an option but these transfers are usually only for a few applicants and are very competitive. It is essential to show that you are not only academically capable in all your exams, but also have a caring nature and meet the physical and emotional demands of a medical student.
It is a good idea to obtain work experience and do plenty of voluntary work throughout your first year. If, however, the transfer process does not work out for you, there are many other options which include doing other courses besides the course you would be currently on. As you would have already completed Year 1, it would be advisable to continue with the degree, as this will indicate commitment should you want to apply for graduate entry medicine at a later date. Applicants HAVE been successful in attaining a place at medical school by using this non-traditional pathway.
Below is a list of some of the courses that will allow you to apply to transfer.
Newcastle – Biomedical Sciences
University of Bradford – Clinical Sciences
St. George's – BSc (Hons) Biomedical Sciences
University of Leicester - BSc Biological Sciences or ONE of the four BSc Medical Biosciences (Biochemistry/Genetics/Microbiology/Physiology)
University of Sussex - Biomedical Sciences or Molecular Medicine
Cardiff University-Medical Pharmacology
Important:
If you do decide to choose one of the above courses, don't forget about the fierce competition for transfers to the first year of Med. A LOT of people will be disappointed, and 'stuck' with their chosen course for another two years.
Not getting into medical can be a hard time for you but it is important to remember that you have time to consider what you the right move for you is. Make sure that you take your time and think carefully. TSR has a medicine subforum where there are current medical students who will help you with any queries that you have. Good Luck!