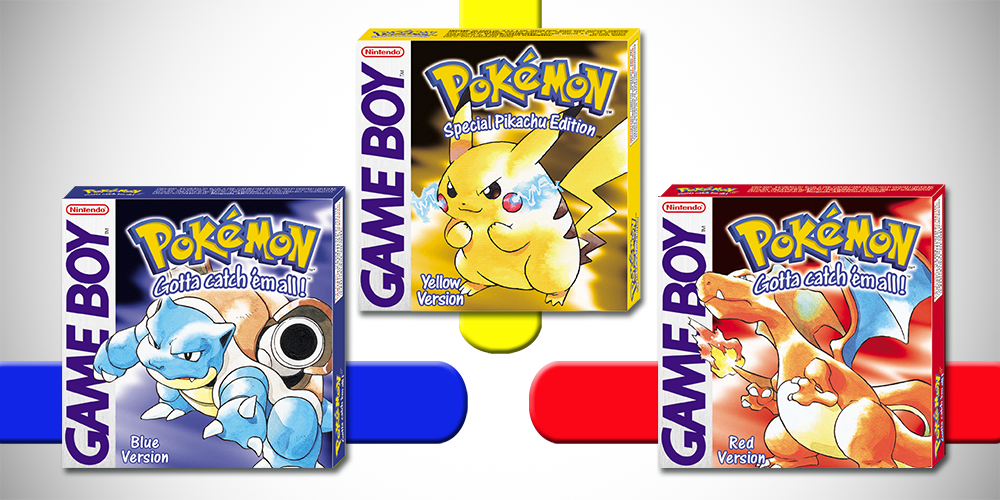 2019 marks the 20th anniversary of the release of Pokemon Red and Blue in Europe (the Japanese actually got it almost three years but we'll ignore that), the massively influential first games in what would eventually become the most successful video game franchise of all time. It also marks the 15th anniversary of their remakes, pokemon FireRed and LeafGreen, so double celebration.
To commemorate the release of the games that absorbed more of my childhood than pretty much anything else, I figured I would start a thread for people to reminisce, have a go at revisiting them or even give them a try for the first time if you weren't around when they first released. If you want to get in on the fun, the three best ways to play the original pokemon games are;
*Nintendo eShop:
If you own a Nintendo 2DS or 3DS, you can download the Virtual console versions of the original pokemon games through the online store for less than a tenner each. These versions of the games are identical to the originals, except for the addition of online battle and tradings and the ability to transfer pokemon to the most recent generation of 3DS games.
*Original Gameboy carts:
Despite being two decades old, the original Pokemon games were so popular that it's no trouble at all finding original copies on eBay or from retro game stores, and the same goes for the GameBoy consoles you can play them on (you can play them on any version of GameBoy branded console except the Gameboy Micro). Popular high street store CEX has
all three colours available to purchase online
for under £20 each, and the same goes for
GameBoy Advance consoles,
meaning you can pick up a genuine piece of your childhood for less than the price of a new PS4 game in 2018.
*Emulators:
If you don't own a 3DS and don't fancy spending actual cash on a game that's potentially older than you are, there's the option of GameBoy emulators for running the games on your PC or Android device (I've lost track on whether or not they exist for iPhone anymore, I'm sure you can can find out by googling it). I'm not going to link to where you can find the game files as that's against site rules, but they're easy enough to find. My emulator of choice for Android is JohnGBC, it's in the Play Store and there's a free version if you don't mind ads or a paid version with extra features like controlling game speed.
Get Playing!
If you do want to play along with me (which you hopefully will so that this thread doesn't just become an echo chamber of my game updates), then awesome and I'll keep a running record of anyone who wants to play with their time/teams belore. Of course the simplest and most nostalgic method of playing is to simply play the game however you like at your own pace, but for any veterans to the series looking to make this 90s kids game a little more difficult, I'll be doing two popular "alternate" playstyles that people play to make the experience more challenging; speedrun, and Nuzlocke.
Speedrun is as simple as it sounds, with the aim of the game being to blitz through the game from Pallet Town to Pokemon League Champion as quickly as possible. Your recorded time in the computer after beating your rival at the Elite 4 is the finish line, and the current world record is 1 hour and 43 minutes! This is a crazy difficult thing to do that needs a huge amount of luck and memorisation, but for anyone who knows the game like the back of their hand it's fun to challenge yourself to see how quickly you can make your way through it. I'll be doing this in a couple of weeks when I've got a 12 hour plane flight to keep myself occupied.
Before that, however, I'll be doing a run with what's come to be known as the Nuzlocke Challenge. Nuzlocke is essentially Pokemon on hard mode, with a set of restrictions you impose on yourself to make the game a lot more difficult to complete with a proper "game over" scenario. Nuzlocke at its base has two rules:
*You can only capture the first catchable pokemon you encounter in any route, cave, ocean or city. Any other pokemon you encounter must be KO'd or run from. After that first encounter you cannot catch any other pokemon in that area for the rest of the game, whether you caught it or not.
*Any Pokemon that faints is deemed dead and cannot be used again, you must release it at your next visit to the PC. If all of the pokemon in your party faint and you lose a battle, it's game over and you have to start again.
There are also optional rules that aren't mandatory but add to the hardcore nature of the run that I personally use:
*No healing items can be used at any point, whether that's HP, PP or status healing. Poision is pure dread in this scenario.
*No duplicate pokemon on your team, if you catch a Pidgey then you cannot use another one unless that first one dies. If your first encounter in an area is a pokemon you already have then tough luck, no new pokemon for you in this area. This is Nuzlocke.
*No legendary birds. They're all caught at high levels, and Articuno and Zapdos both make a good chunk of the late game battles a lot easier.
*All pokemon must be given nicknames. Getting attached to them makes it suck all the more when they die.