Eurovision is calling! Welcome to the Official Eurovision thread
2019's Eurovision will be hosted in Tel Aviv in Israel following Israel's win in Portugal in 2018.
* A TV Licence is required to watch BBC live broadcasts
What we know:
When is the big night?
Saturday 18th May 2019 - BBC ONE, 8PM
Who is representing the UK?
Michael Rice will be performing the song 'Bigger than Us'
What about the other selected entries?
You can view the entries selected so far in this link -
https://www.youtube.com/watch?v=o3rJt9nJc3c
So far more than half of the singers have been picked, there are more to be released however as the deadline for the songs/artists is fast approaching
The running order has been revealed. The order that the acts will go in tonight are:
1. Malta
2. Albania
3. Czech Republic
4. Germany
5. Russia
6. Denmark
7. San Marino
8. North Macedonia
9. Sweden
10. Slovenia
11. Cyprus
12. Netherlands
13. Greece
14. Israel
15. Norway
16. United Kingdom
17. Iceland
18. Estonia
19. Belarus
20. Azerbaijan
21. France
22. Italy
23. Serbia
24. Switzerland
25. Australia
26. Spain
You can preview the songs here:
https://www.youtube.com/watch?v=o3rJt9nJc3c
Why is the UK still in Eurovision, what about Brexit?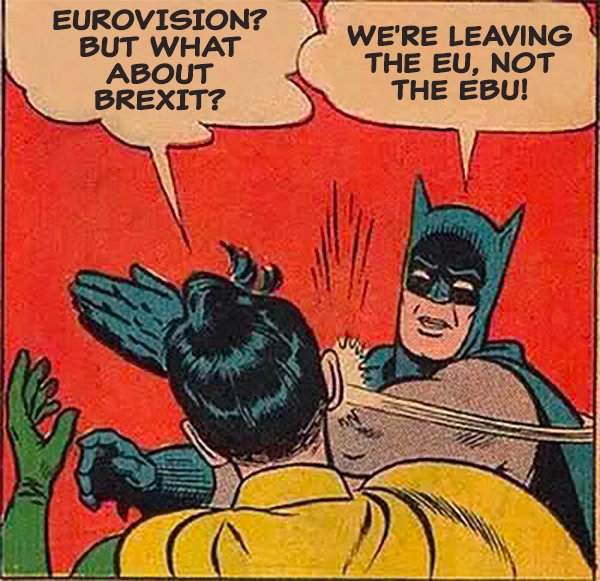 Naturally the above was the BBC's answer
helpful much?
The reason the UK doesn't have to leave Eurovision is because we are part of the EBU
quote from the Sun newspaper explaining why...
https://www.thesun.co.uk/tvandshowbi...t-theresa-may/
"The EBU, which is totally independent of the EU, includes countries both inside and outside of the EU, and also includes countries such as Israel that are outside of Europe.
SOOO...
Who's excited?
What's your favourite entry so far?
Do you have a top 5? top 10? top 20? feel free to post it!
What's your favourite entry from previous years?
Thoughts on the UK entry?
Who will WIN?
Feel free to share Eurovision memes, gifs, or youtube videos (relating to Eurovision obvs)
Fun Eurovisiony links (all your eurovision links in one place) :
Eurovision official website:
https://eurovision.tv/
BBC Party Packs for Grand Final:
https://www.bbc.co.uk/programmes/art...019-party-pack
Mission Eurovision - 2019 Eurovision Bingo Cards:
https://www.missioneurovision.co.uk/...ovision-bingo/
Eurovision Song Contest (official YouTube channel):
https://www.youtube.com/user/eurovision
Information about voting and How to vote:
https://eurovision.tv/vote