Heyyyyy (insert infinite more ys),
My name's FlawlessChicken and welcome to my GYG. Well my name's not actually FlawlessChicken but I don't want anyone I know seeing this ... ah that would be very scary....
So anyways, this is my first ever GYG, hence the reason this introduction's soo trash, and it's just gonna be about the pain and struggles I go through in my school life and hopefully by letting the world know, it'll help me somehow??? idk? and maybe you guys can learn something from me too? I'm hoping to give you guys an update every week so yh here we go...
Well I better tell you all the things that I'm doing rn. Currently, I'm studying maths (Edexcel)), further maths (Edexcel) (yh I know it's deep, it's partly the reason why I'm starting this), biology (OCR A) and chemistry (OCR A) + an EPQ (OCR??? I'm not entirely sure) although I've only thought of a title. I wanna do medicine at uni, preferably at Cambridge (hence the 4A* goal i set myself with), it's been a life long dream. I would post my grades right here, but my sixth form only do these important ~predictor~ exams in June (They're soo closee ahhhhhh!) instead of unit exams. It's kinda dumb imo because you might have a bad day or something, but I guess I'll just have to accept and move on. I'm also doing the gold DofE which is kinda cool. I'm going on my practice expedition on Saturday to the Brecon Beacons so hopefully I don't die or even worse get eaten by sheep (Pray for me!!)
Outside of school, I love eating food. Literally anything.... as long as it's halal, but my favourite food has to be my mum's tiramisu closely followed by KFC (their zinger burgers in particular yum!)
I love KPOP (okay hear me out... I'm not an obsessed fangirl or anything, i just enjoy good music) and i also love hip-hop, rap, normal pop and everything in between except classical yuck!!! Yh my music taste is diverse, which is good apart from when you have to choose what genre of music you wanna listen to because you have a crap tonne of music to choose from.
Nintendo and gaming in general was my childhood so like it's still a cherished part of my life, but I play less now, I need to grind out revision. Hhhhhh Pokemon for life.
Wowow these emojis are so cool!
Right now it's a sticky one because I need to finish off making these bio notes look pretty and read some random stuff online ....... AHhhh stress fight me... I dare you! My USP to this is gonna be my random fact of the week..... When I go online, I get sucked into this blackhole of useless information that I'll never need in my life ~ but it's cool~ I tell myself....
Okay the random fact of the week (drumroll plsss):
Spoiler:

Show
Otters hold hands when they go to sleep and it's sooo goddamn cute. I actually learnt this during a biodiversity (more like bio-dry-versity because it's sooo boring) lesson in biology.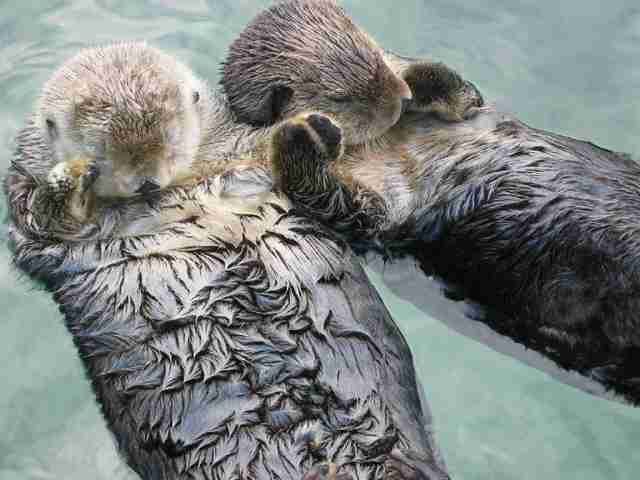 Anyways thanks for wasting some of your time reading this, hopefully I haven't scared you all away and you'll hear a lot from me in the future.
Love you even though I haven't spoken to you yet kekekeke <3
P.S if you have any questions please ask me, I love questions.... JUST ASK ME!!!!!! Okay now I just need to format this nicely and correct alll the typos. Hmmm should I
cOMic SaNs
the situation?
P.P.S my perfectionism wants to make this even better somehow but idk how... so yh give me suggestions/advice if you can
Here. I. Go.