GIFS ARE BAAAAAAAACK!
Yep that's right. After a sad hiatus, we're super excited to welcome gifs back to TSR!!!!!
To celebrate, we're having a gif party!
All you need to do is post a gif in this thread.
Then go rep your faves! The gif with the most rep by midday on Monday 24th June wins a £20 Amazon voucher!
To post a gif
1. Find the gif you want (I usually use giphy.com)
2. Right click and select 'Copy image address'
3. Click this button:
4. Paste
DONE!
Bring you best gif gaaaaaame!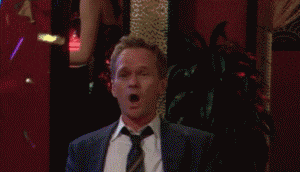 Spoiler:

Show
(Original post by She-Ra)
x
(Original post by Puddles the Monkey)
x
(Original post by The Learn Ranger)
x
(Original post by Evil Homer)
x
(Original post by Gothic Kitten)
x
(Original post by BlinkyBill)
x
(Original post by Lady*Stardust)
x
(Original post by Wilykit)
x
(Original post by StrawberryDreams)
x
(Original post by Claireestelle)
x
(Original post by Doones)
x
(Original post by MrDystopia)
x
(Original post by Gingerbread101)
x
(Original post by TeeEff)
x
(Original post by chelseadagg3r)
x
(Original post by BurstingBubbles)
x
(Original post by shadowdweller)
x
(Original post by Lemur14)
x
(Original post by ParadoxSocks)
x
(Original post by sr90)
x
(Original post by Stiff Little Fingers)
x
(Original post by furryface12)
x
(Original post by Roving Fish)
x
(Original post by Interrobang)
x
(Original post by Airmed)
x
(Original post by Little Tail Chaser)
x
(Original post by Smack)
x
(Original post by Charlotte's Web)
x
(Original post by kvothe the arcane)
x
(Original post by Protostar)
x
(Original post by Changing Skies)
x
(Original post by brainzistheword)
x
(Original post by Snufkin)
x
(Original post by CheeseIsVeg)
x
(Original post by RoyalSheepy)
x
(Original post by Kindred)
x
(Original post by Jack22031994)
x
(Original post by ecolier)
x
(Original post by nexttime)
x
(Original post by Blue_Cow)
x
(Original post by Labrador99)
x
(Original post by 8472)
x
(Original post by Paracosm)
x
(Original post by Deyesy)
x
(Original post by Mummit287)
x
(Original post by mr tim)
x
(Original post by wolfmoon88)
x
(Original post by miser)
x
(Original post by threeportdrift)
x
(Original post by Tubbz)
x
(Original post by natninja)
x
(Original post by ThatsAGoodOne349)
x
(Original post by quasa)
x
(Original post by NotNotBatman)
x
(Original post by littleswany)
x
(Original post by PenguinEmperor)
x
(Original post by artful_lounger)
x
(Original post by squirrology)
x
(Original post by Kallisto)
x
(Original post by RDKGames)
x
(Original post by Mackay)
x
(Original post by AmeliaLost)
x
(Original post by Chronoscope)
x
(Original post by EstelOfTheEyrie)
x
(Original post by JMR2019.)
x
(Original post by frostfly)
x
(Original post by CoffeeAndPolitics)
x
(Original post by sachinisgod)
x
(Original post by murpo)
x
(Original post by Louiseee_)
x
(Original post by 04MR17)
x
(Original post by mel_l218)
x
(Original post by -Eirlys-)
x
(Original post by laurawatt)
x
(Original post by Acsel)
x
(Original post by Notnek)
x
(Original post by Edminzodo)
x
(Original post by .ACS.)
x
(Original post by Helloworld_95)
x
(Original post by LeapingLucy)
x
(Original post by RegisteredBMS)
x
(Original post by Emma:-))
x
(Original post by persipan)
x
(Original post by La_Banane_verte)
x
(Original post by auburnstar)
x
(Original post by CoolCavy)
x
(Original post by Breeee)
x
(Original post by SarcAndSpark)
x
(Original post by Michiyo)
x
(Original post by charco)
x
(Original post by Mr M)
x
(Original post by mimir)
x
(Original post by EmilySarah00)
x
(Original post by eimmanuel)
x
(Original post by thekidwhogames)
x
(Original post by Toastiekid)
x
(Original post by CinnamonSmol)
x
(Original post by sinfonietta)
x
(Original post by umbrellala)
x
(Original post by Sinnoh)
x
(Original post by RedGiant)
x
(Original post by Simbess)
x
(Original post by g.k.galloway)
x
(Original post by ctleafez)
x
(Original post by Joleee)
x
(Original post by nevershear)
x
(Original post by DrawTheLine)
x
(Original post by Simbasoul)
x
(Original post by Infinite Series)
x
(Original post by nyxnko_)
x
(Original post by _gcx)
x
(Original post by Leviathan1741)
x
(Original post by barror1)
x
(Original post by RazzzBerries)
x
(Original post by I AM GROOT 1)
x
(Original post by yzanne)
x
(Original post by AngryJellyfish)
x
(Original post by PhoenixFortune)
x
(Original post by 学生の父)
x
(Original post by Glaz)
x
(Original post by Tolgarda)
x