Latest Hatfield Rail Travellers bulletin of interest to students travelling this weekend - see also my other posts further down.
HART - No trains this weekend / what's your "plan c"?
In this edition:
Reminder - no trains at Hatfield August Bank Hol Sat / Sun
Fri 9 Aug - how did you get home? what's your "plan c"
Improving the station environment - are you interested?
Hatfield station manager departs
Snippets
Meet the Manager sessions
Reminder - no trains at Hatfield August Bank Hol Sat / Sun
There will be no trains along the East Coast main line on August Bank Holiday Sat / Sun. This includes the whole Moorgate line - both branches.
Whilst there are some arrangements for ticket acceptance on adjacent lines and bus provision, it is not feasible to cater for the full number of passengers who would normally travel on those days. Journeys will be longer / over-crowded, so train companies are recommending that people do not travel, unless they have to do so.
The bus services are showing in journey planners, but obviously buses are susceptible to traffic hold-ups, so timings cannot be guaranteed. NB Delay repay will operate based on the published schedule for the day - not the normal one.
Details of the closure and bus routes etc are here:
https://www.greatnorthernrail.com/travel-information/plan-your-journey/kings-cross-remodelling.
From Hatfield the fastest route into / out of central London, using wholly public transport, is likely to be the bus to St Albans then train to St Pancras. Hatfield car park season ticket holders are being advised that their ticket can be used in St Albans. Through trains into London at St Albans are likely to be busy, due to already having passengers on board who transferred across further north, but there are slower services that start in St Albans.
For north London, the bus to Potters Bar then change for bus to Cockfosters / Oakwood may be quicker, depending on your ultimate destination (NB these options are not showing fully in journey planners, so look at each segment separately). If you decide to drive to Cockfosters instead, be aware that there is limited car parking available at the station.
Also, the final buses are at around 23:00, so if you need to travel home later, you will have to make alternative arrangements. There are a few later service buses on Sat - see:
http://www.travelinesoutheast.org.uk/
It is planned that trains will run again on the Bank Hol Mon, but this is a major piece of work, and we would recommend caution in relying on services running that day (although there are contingency plans in place, in the event of the work not being completed on schedule).
There is a dedicated website for the whole ongoing project:
https://eastcoastupgrade.co.uk
. (NB the per station info shown on that website was incomplete when we last checked it, and journey planners seem better as info sources.)
Fri 9 Aug - how did you get home? what's your "plan c"?
Most of us probably have a "plan b" involving St Albans - but what happens when that line is blocked too?
Hopefully it will continue to be a rare occurrence, but we would like to collate ideas for viable alternative routes and would welcome your input as to what is good / bad and costings.
One option is GA train to Hertford East - but how easy is it to get a taxi from there and how much is it? Similarly for other stations along that line? There is a minicab firm at Chestnut station and that cost £25 after a few minutes wait. There was no-one else trying that route so no potential for sharing.
What about taxis / minicabs at Cockfosters / High Barnet?
Are there bus possibilities during the evening from anywhere? Most seem to finish quite early.
Please do let us know how you managed and the costs and we'll summarise in a later newsletter.
On 9 Aug GN / TL were suggesting that stranded passengers took taxis, if there were no viable alternatives. In such a scenario, passengers would generally be expected to get as far as they viably can using ticket acceptance on alternative routes - rather than taking a taxi the whole way. However what is reasonable will vary according to the individual circumstances. If you do use a taxi or minicab in such a situation, remember to get a dated receipt. It appears that to claim such extra costs, you also have to make a delay repay claim.
The relevant GN links are:
https://www.greatnorthernrail.com/help-and-support/journey-problems/delay-repay-compensation
https://www.greatnorthernrail.com/help-and-support/contact-us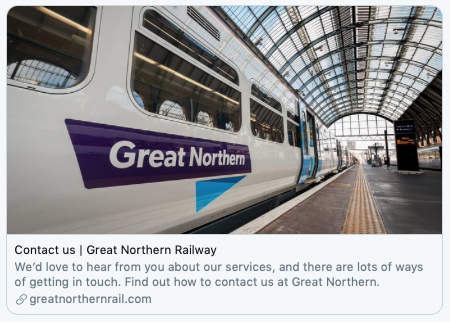 Improving the station environment - are you interested?
If you've been through WGC or Alexandra Palace stations in recent months, you might have seen some of the improvements volunteers have been making - including gardening. For more info, see:
https://allaboarders.org/about-us-3/
http://www.friendsofallypallystation.co .uk
We'd love to do something similar to improve things at Hatfield, but we need volunteers to help. We'll have a stall at the station within the next few weeks to provide more info, but could do with some help in the meantime to get properly prepared. You don't need any gardening expertise, as we can supply that.
One other thing we currently lack in general, is any Facebook presence - could you help us with this?
If you are interested in either of these or in getting involved in another way, please contact us at
[email protected]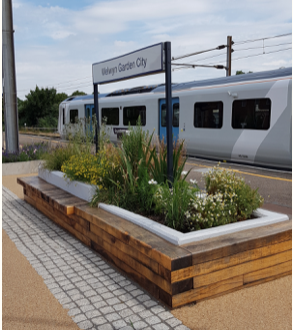 Hatfield station manager departs
William Buck, who had been station manager covering Hatfield and other local stations since the beginning of the year, has unfortunately decided to leave GTR. We wish him good luck in his future career!
In the short time he was with us, he had managed to progress several ongoing issues, such as the ventilation in the gents toilets and water pooling on the bridge, and we thank him for those and other achievements.
As yet there is no news as to who will be taking over, but we do have a more senior contact for any issues in the meantime.
Snippets
Changes to bus services
There are various changes being implemented from 1 September - details are online at:
https://www.intalink.org.uk
.
Passenger Benefit Fund update
We submitted our proposals, with support from other local stakeholders, and are waiting to hear back from GN / TL about the next steps.
Secure bike store at Hatfield
We are still waiting for final snagging to be done and signage to be installed but it is available. If you'd like to use it, please email us for details at
[email protected]
.
Oyster and contactless payg
Oyster and contactless payg are about to be rolled out to Potter Bar and that will be followed soon by contactless only at Brookmans Park. We are expecting contactless to be extended as far as WGC by the end of the year. This gives a lot of potential for confusion, particularly for Londoners visiting our area. If you become aware of issues, please let us know. We'll provide info re pricing at Hatfield when full details are clear.
Accessibility - Harrington Humps
Last month the DfT announced a £20m fund for small-scale accessibility enhancements:
https://www.gov.uk/government/news/20-million-fund-marks-one-year-on-from-the-inclusive-transport-strategy
We have asked GN/TL to consider including so-called Harrington Humps at Hatfield within their submission. These allow easier boarding and alighting for passengers using wheelchairs or with limited mobility. There will be a lot of competition for the money but we'll let you know how we get on.
Meet the Manager Sessions
The next sessions are:
Farringdon
Thursday 12 Sep: 07:30 - 09:30
Kings Cross
Thursday 7 Nov: 07:30 - 09:30
There are usually a good range of senior managers at these events and we would encourage you to go along and ask questions / raise issues.
We are hopeful that there might be a session at Moorgate at the end of this year or the beginning of 2020.
Spread the Word
Please let other station users know of our existence and encourage them to join our mailing list and/or follow us on Twitter. We update the Twitter feed on our website with news items etc in between newsletters.
Do let us have details of any other issues and concerns and we will assist in raising them in an appropriate forum.
Help please! - in order to maximise our impact in matters effecting you, we need further volunteers - even a small amount of time would help e.g. info stands at the station, contributing to these newsletters, updating info on our website etc. You can contact us on

[email protected]

.