Copy-pasta'd this from a thread in the sub's area. I realised that it wasn't material that should be for subs only.
Yesterday I had a day so eventful, yet disappointing, hilarious and frustrating at the same time that I cannot and should not refrain from telling the Back Room all about it.
I'll start with some back story. About six months ago I found out that one of my dearest friends was coming to Europe for a month as part of an exchange program. She'd be staying in Frankfurt. This meant we'd have to meet, no matter how hard it'd be. Think of my enthusiasm for TSR meets then multiply that many times. Even after months of careful planning, a city (Brussels) selected which both of us could access fairly easily and tickets being bought well in advance, the fates seemed to have it in for me. The day was destined to be a tragicomedy for me from about three weeks before it started. Rachel's host family (making her sound like a parasite...) were involved in a car crash which ruled them out of putting her up, throwing her trip to Europe into jeopardy. However, she was eventually shifted around Frankfurt with the other people on her exchange program and we were all set to see each other again. That is, until she discovered there aren't any night buses in Frankfurt, or any that could get her to the station early enough. That was soon resolved too though, as a German guy (called Klaus) offered her a lift there at 5am in the morning.
The day arrived. I'd just spent five days with TSRers and was exhausted. Rather sensibly I stayed up in the shoutbox all day. My train left at 6am and so there was no way I'd catch it if I went to my own bed. I stayed online until about 12.30 and they walked off to get the night bus to St. Pancras. I forgot my camera. Mistake number one. That meant no pictures of Brussels for the parents, no photos of myself with Rachel for us to treasure and no pictures of the Eurostar for Cal and Crisps. The second error came when I got to the high street. I'd forgotten to change my money into Euros so I'd have to comb the early morning London streets for a Bureau de Change. I waited twenty minutes for the bus talking to a Muslim chap about the perils of alcohol. The fact that he's Muslim is highly relevant of course. When the bus came I tried to block him out with my iPod, but it stopped working... great. I listened to Ahmed (for that was his name) until Tottenham Court Road when I could finally leave him to his ramblings.
A cold realisation dawned - I was getting the train to Bruxelles-Midi (will be using the French spelling throughout, you pedantic ****s), but I wasn't sure which station Rachel's train got into. I had this information in my hotmail inbox, but the e-café that I thought was 24 hours wasn't. So I texted The Humble Mosquito for he knows us both well. He didn't reply. I needed a saviour and that saviour was the insomniac, HCT. She answered her phone which was a minor miracle in itself.
She normally only does texts. But yeah, she saved me a bit and got me the answer I needed: Bruxelles-Nord at 10.55am. 10.55am... that was two hours after I got there. Why hadn't I fully taken that in? It was now about two am, I hadn't slept, I had no euros and no map of Brussels. I got to St. Pancras at about 2.30, bought some cake to celebrate and then fell asleep for just under two hours. That blatantly wasn't going to last though as I was woken up by a text asking if I was free later on. Patiently I explained to them that they should **** off and all was merry once more. I began reading my book. It was, of course, the wrong book. I'd brought "If nobody speaks of remarkable things" with me by accident. Still, that's a good read and I highly recommend it. At 4.30 the bureau de change opened and generously changed my £20 for... €22. *******s. That's well under the exchange rate. So, about £7 poorer I waited for check in. That was about the only part of the day that went smoothly as I was on the train in no time at all. It feels like a week ago, rather than nineteen hours ago. I slept all the way to Brussels and ended up in a station called Brussel-Zuid. What the ****? I was so confused. Then it turned out the stupid Dutch want to speak their stupid language all over stupid Belgium. (I did know this before, I just wanted to swear at the Dutch.) The Dutch translate midi as zuid for some unfathomable etymological reason.
I needed a piss but the *******s wanted 5o centimes for it. I obviously wasn't going to pay that much of my paltry €22 for the privilege of pissing on their property so I just clenched for a bit. There were loads of Relay shops dotted around the station, their equivalent of WHSmith, but despite them all being loaded with maps of London, Paris, Manchester and Copenhagen they had nothing for Brussels, so that was going to have to wait. I now needed to go to Bruxelles-Nord. I wasn't at all confident with myself when asking "er, je vousdrais un bilet ordinaire pour Bruxelles-Nord" and I must have been wrong because he immediately said "Just speak English." I got a single fare, €1.50. Not awful, I suppose. I managed to find the loo on the train which was a relief. Nord was a horrible grey building site. I sat in it and ate some cheese while I waited for her train. It was finally 10.55 and I raced onto her platform and looked out for a slightly bouncy girl with teal hair and pinstripe trousers, but no such creature emerged. The train left. I spent a good half an hour combing the station for her but she'd clearly missed the train. I went on TSR to check for e-mails but there were none. I waited around till the 12.07, but she wasn't on that either. It was me alone in Brussels for the day. Then the downpour started. It was soaking wet and boiling hot. A really crap combination. I tried ringing her, even though I knew her phone doesn't work in Europe. So so utterly depressing.
I decided to try and make the most of the day and so set off on an epic fare evasion mission. (None of the stations have barriers, so it's rather easy.) I wanted to go the Grand Place really, as that's about the only nice area of Brussels which definitely wouldn't be being dug up. The signs to the Grand Place were pathetic, pointing in conflicting directions and eventually leading me to the Royale Place instead. Which was being dug up. There was a map behind some building work so I peered at that through the rain and the greyness. The Grand Place was ages away but apparently there was an information hut behind me. There was! It even had maps. I went briefly into the building that housed the Magritte expo, but couldn't afford to actually look at any Magrittes. Same with the British Art museum and the instrument museum. They were probably **** anyway. Twenty five minutes later I found the (usually) beautiful Grand Place.
Spoiler:

Show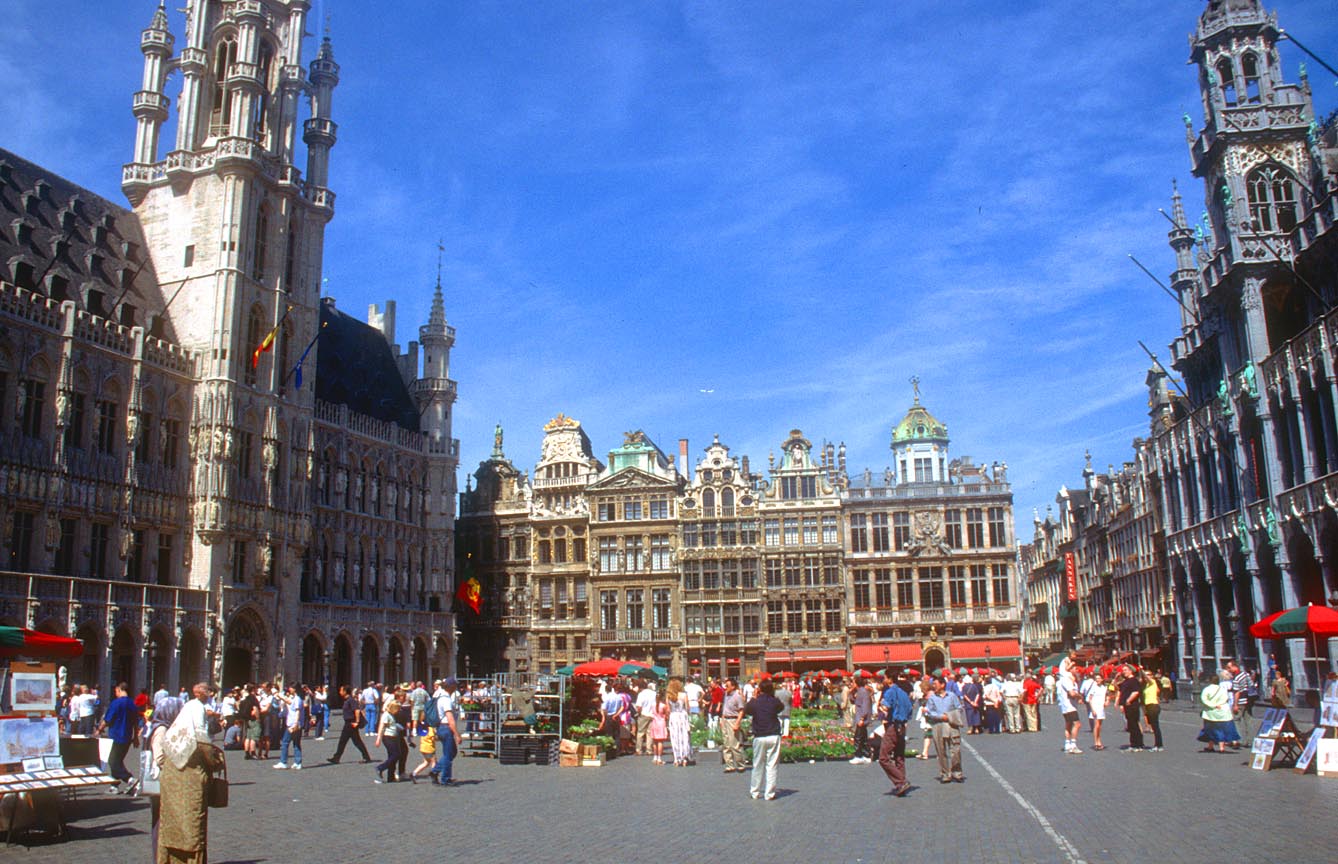 However, they were digging it up. They'd also dumped a hideous monstrosity covered in tarpaulin in the middle of it so I could hardly see anything. A beggar started singing at me, so I went away. The chocolate museum wasn't where the map said it was. I didn't find it at all. The Tintin museum was, but I wasn't going in it with my current hairdo. I'd have been mobbed.
I wandered lonely as a cloud towards the Moroccan section of the town, which was being dug up. Now nothing but mussels are sold there. Some seedy gents pressed a porn mag, complete with DVD into my hands and leered at me in a very genial manner. They had loads of them, I reckon they'd stolen them en masse. I put it in my bag, just in case the day got so bad that I'd have to resort to it. That's free gift number one, ladies and gents. I found a supermarket so I bought a huge bottle of really cheap fluid. I think it was pepsi substitute. They didn't sell sandwiches, but they did have hundreds of maps of Brussels. I found a nearby Chinese place instead and bought a box of shredded beef and noodles for €5.90 in a box marked '****.' (Rhyming with Yank.) I giggled about this to myself for many hours. The weather dried up very suddenly allowing me to sit in the Place de Martyrs and enjoy my Wok ****. This was probably the most enjoyable part of the day as the **** tasted good and I dried off quickly. I watched people eating, the pigeons scavenging, the beggars begging and the builders digging perfectly happily until my phone went mental on me and refused to stay switched on. They it started to rain so I went for a walk. In a few minutes almost everyone in Brussels had dived for cover and I found myself moaning on TSR again. Good fun that. Forty minutes later the weather was bearable again so I trotted off to see the cathedral. It was near inaccessible from my route though, as the road in front of it was being dug up. I had to go round the long way and was presented with a free Belgian TV guide en route. I flicked through it as I walked and was gutted to discover that I'd miss Terminator 3 tonight. The cathedral was pretty, but the weather was at that point too good to waste so I headed for the Parc de Brussels. It was being dug up, so I didn't sit in it long and then it started to rain. I went to another Jardins, which I've forgot the name of, which was also being dug up. National Hole Day in Belgium, obviously. Frustrated at this, I ran down some steps, straight into the middle of another building site which they'd helpfully opened the gates of and disguised as a normal part of the city. I backtracked when I realised and met the traffic again. I haven't mentioned the Belgian drivers yet, but they're even worse than London ones. They all take a red light as an invitation to continue driving if no-one's crossing the road. Now though I met some really awful drivers. The light was definitely red for them and green for me, so I started crossing the road. They weren't bothered by this detail though and drove over the zebra crossing nonetheless. I narrowly avoided being hit. When I got across the deathtrap I noticed a Greggs, which amused me. It was closed though, so no iced bun for me. A man outside it gave me an anti-TV badge. Gift three. I sat down angrily and looked at the porn, which was ****, so I put it back in my bag and stomped into Bruxelles-Central station, whereupon I was presented with my final free gift: a cucumber! This would end up being my supper. I ate it on the train home while making notes for this thread. It was a bit rotten... I looked around the station and needed a piss. 50 centimes again, not happening. So I used my initiative. I fare evaded to Bruxelles-Nord, used the toilet on the train and then fare evaded back again. It's piss easy. (Geddit?) I counted my monies. I had €1.50 left. There wasn't much I could do with that apart from have a wee or use a net cafe. I chose the latter and embarked on my biggest moaning session at all. Fortunately PQ, dogtanian, Insp and LawYah helped me see the funny side of it. May Buddha rain down a thousand praises on their heads. When paying for this service I realised I have another €5 in my wallet. Hurray. So an hour later, €1.50 poorer, and a little happier I left the cafe, Hayley's whisper firm in my mind - "as long as you're fine." I tried to be fine, but it only lasted about two minutes as I was hit by a coach. I'd somehow managed to forget the Europeans drive on the other side of the road and just stepped out into the middle. Luckily it swerved and only sideswiped me. I've got no injuries, but I was really shaken for a while and had to sit down on the floor. (Woe.) It was 6.45, I could check in for my train in an hour and I needed a piss again so I fare evaded to and from Bruxelles-Midi, throwing the porn, the map and the TV guide away on the way. Someone had masturbated all over the first loo though, which was more than a little grim. Eventually I checked in for the Eurostar and they were just probing me to make sure I wasn't a terrorist (stupid belt buckle) when I realised I didn't have my wallet on me. I ran out of check in after letting the security know what had happened (damn my French skills), and checked the bins I'd thrown the porn in to no avail. I retraced my steps back to the internet cafe and found it there, minus the €5. I ran back to the station again, remembering to look out for coaches and checked in with a few minutes to spare. Aaaargh.
So I sat in the departure lounge, stinking of sweat, rain, Belgian Chinese **** and whatever else I had on me by that point when a vast family of German Jews swooped down on the seats around me and started reading the Torrah to each other. They were all geared up in Jew-gear and had large noses. Then one of them started counting her money. This was too much for me, so I went for a ****. The toilets in the departure lounge were free so I squeezed out my poo and then realised there was no toilet roll. I shuffled into the next cubicle and wiped myself when one of the Jewman Jrs. looked under the door at me. Little ****. After the **** I boarded and train and nothing's gone wrong since getting back to England.
Still, at least I got out of the house. For about £80. There was a lovely sunset between Lille and Calais.
Oh, and I received this e-mail at about two am:
(Original post by Rachel)
Sent an email earlier that morning. Absolutely everything went wrong that could, long story short. I#m currently in a hostel in Munich after spending the day sitting in various churches feeling miserable after... absolutely everything went wrong. I haven't felt like this in a while. complete and utter ****. And I'm a terrible atheist. makes me an even worse christian. and none of that is going to make you feel better. dunno what to say, other than this is the worst i've felt since i ****ed over mozzie, but i don't think that has much meaning to you. and it won't make you feel better. i don't know what will, really. what can.

I can mail you your book and stuff, if you'd like. It's a bunch of stuff I've been accumulating ever since we started planning this ages ago. and the stuff i wrote today - was supposed to be your day, so it's not really mine. might bore you. dunno. Or buy another phone card (it got ate) and read some of it to you. I don't know. not sure. going to a concentration camp tomorrow. I was hoping to be high enough of Brussels that I wouldn't sink too deep from that. guess it's not going to work like that now. hah.

I chased pigeons. Maybe we chased some at the same time. dunno.

laptop's about to die

hope you managed to have a good time without me