Dream degrees and making friends....

If you could invent any degree, what would it be?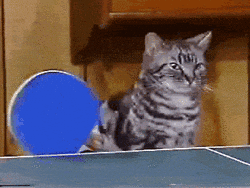 ...asked Quasa. Here's some the dream degrees:

"BSc Ping Pong Technology,"says VeniViciVidi. There'd be lots of exciting back-and-forth in seminars.

"Memeology," says LaMandarine.

"BSc Cat Studies," says Spock's Socks.

"BSc Paranormal Phenomena," says Leviathan1741.

"BSc Functional Adulting - Essentially how to become a fully functional adult," says Donte. Or

"BA Dreaming (with optional modules to study lucid dreaming and Daydreaming)," he continues.

"Degree in idleness," says Ghostwalker, "If you turn up for the exam - you've failed"
Poll: How have you made friends?
CherryCheeryBoomBoom's poll revealed that the most common way of making friends at uni is from lectures and tutorials.
The second most common way was through Halls, while the third was through sports and societies.

"I met the majority of my friends through my course as well as being a dedicated and active member of my uni's hip hop dance society," says super_kawaii.
"It was mainly through Jiu Jitsu that I made the main part of my friendship group," says Slowbro93.

"Part-time job in a nightclub gave me such social scene I've never experienced previously!" says FailedTeacher

If you're feeling worried at making friends, or you still don't feel like you've got mates don't worry. Remember it can take time for friendships to take hold, and a lot of people feel a bit lonely. Super_Kawaii has some sage advice for making friends:

"It's like with making friends in any aspect at uni - when you meet up with them in class, you ask them if they want to hang out after class. It's nowhere near as hard as people think. I'm the most socially awkward person ever but I'm crazy popular at uni because I made the effort to hang out with people and ask them to do things outside times we'd normally meet," says Super_Kawaii. So don't be afraid to invite people for a drink or to the cinema, they're feeling as nervous about things as you are.
Advice: Do you need social media to survive at uni?
Smartphones and laptops are expensive for someone getting by on a student loan – but can you survive university without social media?

"Facebook, it's handy to stay in contact. You may need to contact your course mates if you want some help. Handy for group work too," says Lord Samosa.

"Social media is not really necessary but at least a basic phone is a must," says stefano865. It's going to be difficult for people to stay in contact with you if you don't have a phone meaning you might miss out on impromptu meets, especially with people who don't live in your flat or halls.

"I am quite an introverted person, but I don't think even I'd be able to do without Facebook!" says Pro Crastination. "Flat/coursemates group chats, event invites, society sessions/events, and of course the odd bit of internet pool when you have just had enough of work."

Having a Facebook account, even if you never use it to post pictures or statuses, is a way for people to get in touch with you if they don't have your number; a pretty common experience at university, especially when you're meeting new people all the time.

It's also an easy way for people to invite you to events and to get notified of what's going on around campus. "I've found Facebook very useful for finding out about many different events that probably wouldn't have known about otherwise, from nights out and markets to music festivals," says CherryCherryBoomBoom. "Facebook is probably good for social events and just keeping up with people in general," says AngryRedhead.

Whatsapp is another super useful app as people use it to message each other and it allows group chats, which comes in handy for group study sessions and group assignments. "You may need to contact your course mates if you want some help. Handy for group work too," says Lord Samosa.

Other social media accounts like SnapChat and YikYak are fun to have, but because they're not primarily used to organise events and group chats, you probably don't need to worry about them so much.

---